Creating Affirming Clinical Environments
To safely and effectively access healthcare, gender diverse patients need clinical environments in which they feel safe and accepted. The tool below is designed to help clinics assess their current level of Two Spirit and LGBTQ+ inclusivity and easily identify practical steps to make their clinic more affirming for Two Spirit and LGBTQ+ patients.
Find out how affirming your clinic is for Two Spirit and LGBTQ+ patients with this 10-minute Self-Assessment.
Note: This tool can be applied to settings beyond clinics and healthcare. It is up to various other organizations and their eventual Two Spirit and Native Trans advisory councils to determine which questions and strategies may apply to the tribal and urban organizations that they represent, or to reasonably adapt those directed more toward clinical service delivery.
We offer recognition and thanks to the California Consortium for Urban Indian Health for their Traditions of Health Culturally-Adapted Integration Tool, which inspired this tool for Two Spirit and LGBTQ+ Affirming Clinical Environments.
Click on a tab below to get started.
The following resources may be useful when working to improve clinic environments for Two Spirit and LGBTQ+ individuals:

For 2SLGBTQ+ Toolkits, send an email including your mailing address to Morgan Thomas at mthomas@npaihb.org. (Toolkit includes pronoun buttons, rainbow pins, pamphlets, rack cards, and posters supporting Two Spirit and LGBTQ+ individuals.)

Guides for Affirming Clinic Environments:

Best Practice Guidelines for Gender-Affirming Care: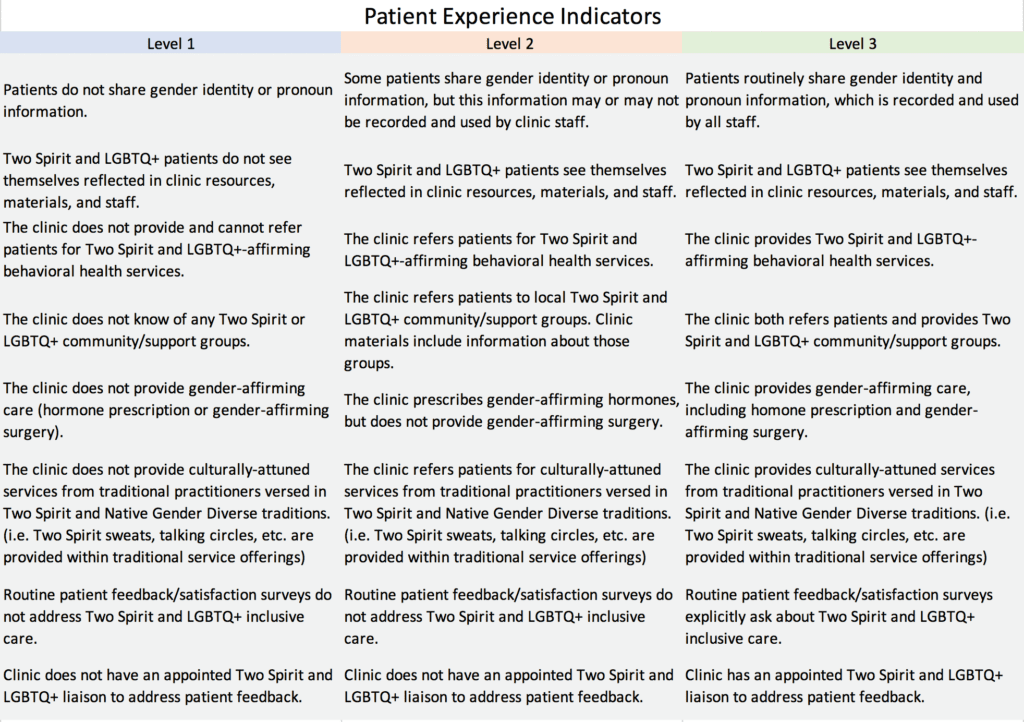 The following resources may be useful when working to improve clinic environments for Two Spirit and LGBTQ+ individuals:
For 2SLGBTQ+ Toolkits, send an email including your mailing address to Morgan Thomas at mthomas@npaihb.org. (Toolkit includes pronoun buttons, rainbow pins, pamphlets, rack cards, and posters supporting Two Spirit and LGBTQ+ individuals.)
Guides for Affirming Clinic Environments:
Best Practice Guidelines for Gender-Affirming Care: