Carefully designed and implemented health research can provide solutions to help eliminate the vast disparities in health between Northwest American Indians/Alaska Natives (AI/ANs) and non-AI/AN.  Because of past experiences with non-AI/AN researchers, however, AI/AN communities are generally distrustful of health research and thus have low participation in health research which could improve community health.
This project offers AI/AN researchers access to the extensive health research training opportunities of two premier academic health research institutes of the Northwest—Oregon Health Science University (OHSU) and the University of Washington (UW).  All of the NARCH projects will be accomplished through enhancements of the existing partnership between NPAIHB, OHSU, and UW.  Efforts of these partners will help to further the position of the NW NARCH as a regional resource for AI/AN health research, and will contribute to the national effort to reduce health disparities among AI/AN people, compared to other races in the US.
Now accepting applications for the Research Support Fellowship and Tribal Researchers' Cancer Control Fellowship Program
Research Support Fellowship Application
Research Support Fellowship Flyer
The NW NARCH is operated by the EpiCenter at the Northwest Portland Area Indian Health Board (NPAIHB),—an Indian organization uniquely qualified to administer NARCH based on an active membership of all 43 Northwest Indian tribes in Idaho, Oregon and Washington.
The overall goal of the NW NARCH is to develop a cadre of highly trained AI/AN biomedical and health researchers who are sensitive to the culture and specific concerns of Northwest Indian and Alaska Native communities, and who can bring the benefits of academic research to these communities to reduce health disparities.
Community Based Projects to Accomplish our Goals
The NW NARCH funds community-based research projects that address priority health issues. Here are some past and current projects:
Past Projects:
Diabetes Self-Management Via Internet
Eye Disease Surveillance Study
Monitoring Abuse Drugs (MAD NARCH)
Native Voices Adaptation
Summer Institute Research Training
Toddler Obesity and Tooth Decay Prevention Study (TOTS)
Present Projects:
Asthma Intervention Study
Cancer Control Training
Child Safety Seat Study
Native VOICES
Tots-2-Tweens
Tribal Health Conferences

E-News

Fellowships

Internships

NW NARCH Training

Community Research

Resources

Contact Us
This is the 2020 Conference Information Archive
Friday, February 21, 2020
Keynote Address:  The Partnership for Native American Cancer Prevention – Intro   Overview – Jani Ingram, Professor, Analytical and Environmental Chemistry, Northern Arizona University
Utilizing Electronic Health Records (EHR) Alerts to Improve Child Passenger Safety in Northwest Tribal Communities – Candice Jiménez, Northwest Portland Area Indian Health Board
Raising Healthy Native Youth: AI/AN Inclusive Pathways for Adolescent Health – Michelle Singer, Northwest Portland Area Indian Health Board
How the ANTHC is Developing Immersive Holograms to Promote Substance Use Dialogue in Alaska Native Communities – Tim Collins, Alaska Native Tribal Health Consortium
NTP I: Community Action Board – Charene Alexander, Northwest Indian College
Community -> Research -> Action: a NARCH Example – Bill Freeman, Northwest Indian College
"It's Time for a Change, I Need to, I Have to": Turning Points in Recovery from Substance Misuse among Individuals with the Lived Experience of Homelessness in Anchorage, Alaska – Alicia Marvin, University of Alaska Anchorage
Northwest Tribal Epidemiology Center – Victoria Warren-Mears, Northwest Portland Area Indian Health Board
Alaska Native Tribal Health Consortium – Timothy Thomas, Alaska Native Tribal Health Consortium
California Tribal Epidemiology Center – Vanesscia Cresci, California Rural Indian Health Board
University of Washington – Karina Walters, University of Washington
Alaska Native Patient and Provider Perspectives on the Multi-target Stool DNA Test Compared with Colonoscopy for Colorectal Cancer Screening – Diana Redwood, Alaska Native Tribal Health Consortium, Alaska Native Epidemiology Center
Gynecologic Cancer Incidence and Mortality among American Indian/Alaska Native Women in the Pacific Northwest, 1996-2016 – Mercedes Weisenberger, Oregon Health and Science University
Native Spirit Boys & Girls Club: Development, Implementation, and Evaluation of a Culturally- grounded After-school Program for American Indian Youth in an Urban Setting – Amanda Hunter, University of Arizona
Saturday, February 22, 2020
Exploring Methodologies of Decolonizing and Indigenizing Research Methods – Danica Brown, Northwest Portland Area Indian Health Board
Developing a Study of Colorectal Cancer Risk and Protective Factors among Alaska Native People Using a Community Based Participatory Research Framework – Sarah Nash & Diana Redwood, Alaska Native Tribal Health Consortium
Establishment of an Oral Health surveillance System in Western Alaska Using the Electronic Dental Record – Timothy Thomas, Director of Clinical and Research Services Department in the Division of Community Health Services, Alaska Native Tribal Health Consortium
Indigenized Colville Tribal Research – Randall Gottfriedson, SimHayKin Jack, and Kookguma Scumhist Jack, Colville Confederated Tribes
Research Support Fellowships
For American Indian/Alaska Native Graduate Students
Who can apply: 
Now Accepting Applications for the Research Support Fellowship and Tribal Researchers' Cancer Control Fellowship Program
Fellowship Application   Fellowship Flyer
Sponsored by:
National Institutes of Health
Native American Research Centers for Health (NARCH)
Northwest Portland Area Indian Health Board
Oregon Prevention Research Center
Indian Health Service
Fellowship Details:
Provides funding for American Indian/Alaska Native graduate students conducting scientific research supervised under an academic mentor
Financial support awarded on an hourly basis ($20/hour; maximum: 1,000 hours)
To apply, submit:
Certificate of Indian Blood (CIB)
A cover letter describing your research
Name and contact information of your local academic mentor
Letter of recommendation from your academic mentor
Contact: Ashley Thomas, NW NARCH Program Manager, at athomas@npaihb.org for more information or to submit application materials.
Testimonials:
"I am incredibly thankful for the assistance and support of the Northwest NARCH fellowship program. They have given me the opportunity to focus on my studies and connected me with numerous mentors focused on maintaining and improving American Indian and Alaska Native health. In addition, the program director and staff has provided me invaluable support in ensuring I have the tools and skills to be successful in my doctorate program at the University of Washington! Ahe'hee" – Dornell Pete, PhD Candidate, UW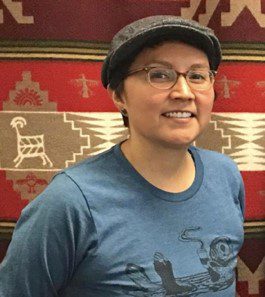 Application for the 2021 Tribal Researchers' Cancer Control Fellowship Program
Tribal Researchers' Cancer Control Fellowship Program Flyer
For more information please contact Ashley Thomas at athomas@npaihb.org
The overall goal of the Tribal Researchers' Cancer Control Fellowship Program is to reduce cancer incidence and mortality and improve cancer survival in tribal communities through the efforts of AI/AN researchers. One specific goal of this program is to increase research capacities and build research skills among AI/AN investigators, so that they will be better prepared to design and implement cancer-related research projects within AI/AN communities.
Accepted Fellows will:
attend three-weeks of tailored cancer control research training held at the Indian Health Board in Portland, Oregon. The first two weeks will be June 6th-18th, 2021 followed by a one-week session in the fall.
receive follow-up support, including field support, distance learning opportunities, and mentoring.
be eligible for cancer control research internships to master additional research skills relevant to careers in community-based cancer control under close mentorship.
be connected to a network of experts in cancer control and prevention in Indian Country.
Testimonials:    Marc A Emerson, MPH, PhD candidate
"I feel so grateful to have been a part of TRCCFP, the support has been invaluable. This fellowship has given me tremendous support to pursue my research in my doctoral program, opportunities to present research and network. Most importantly, the fellowship has provided space to grow together as a cohort of Native scholars, something that is truly unique and special about this program. I believe they would bend over backwards to provide support; I cannot speak highly enough of the fellowship and their mission to support motivated students."
Trudie Jackson, MS, PhD candidate
"My presence has taught me to embrace new knowledge and support each other as emerging researchers in Indian Country for the betterment of our communities."
Important Dates: 2021_SavetheDate
Who Should Apply:
AI/AN Tribal Health Researchers at the Masters level and higher.
AI/AN Graduate students.
Application Requirements:
A copy of your CV or resume describing relevant experience.
A letter of support from the community or organization with whom you plan to work in cancer control activities.
A brief letter from your employer ensuring that you will have three weeks available to attend training in Portland, OR.
A personal statement focused on cancer prevention and control.
Contact Us:
Ashley Thomas
NW NARCH Program Manager
athomas@npaihb.org
Evaluating our Effectiveness in Improving Asthma Care for Children and Adolescents
A project sponsored by the Indian Health Service, Tribal Environmental Services, in partnership with the Northwest Portland Area Indian Health Board. The goal of this evaluation is to reduce asthma attacks & in home asthma triggers. 
Who qualifies to participate?
Children and Teens age 3-17 with asthma and their parents/guardians 
What are the benefits of participating in this intervention evaluation?
Patients and their parent and/or guardians will receive education.
Parent and/or guardians will receive in home visits in order to provide special vacuum cleaners, mattresses & pillow covers, and green cleaning supplies.
Services are free of charge
Supplies are your families to keep!
You will receive a $25 gift card for participating.
For more referral information, please talk with your primary care provider to request a referral.
For general Enhancing Control of Childhood Asthma in AI/AN Communities Project information contact:
Mattie Tomeo-Palmanteer: (503) 416-3254 or asthma@npaihb.org
Thomas Becker, PI
503.416.3280
tbecker@npaihb.org
2121 SW Broadway, STE 300
Portland, OR  97201
Ashley Thomas, Program Manager
athomas@npaihb.org
Grazia Cunningham, Project Coordinator
gcunningham@npaihb.org
Mattie Tomeo-Palmanteer, Project Coordinator
503.416.3254
asthma@npaihb.org
Who can apply:
American Indian/Alaska Native Students in the Biomedical and Social Sciences
To apply, submit:
Certificate of Indian Blood (CIB)
A cover letter describing your project
Name and contact information of your local mentor
Letter of recommendation from your academic mentor
Contact:
Ashley Thomas, MPH
Program Manager
NW Native American Research Center for Health
Northwest Portland Area Indian Health Board
2121 SW Broadway
Portland, OR 97201
athomas@npaihb.org