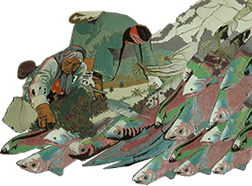 Samish Indian Nation
Samish Indian Nation


2918 Commercial Avenue
P.O. Box 919
Anacortes, WA 98221
Phone: 360-899-5454
Fax: 360-588-9537
Toll Free: 877-470-8737
Webpage: http://www.samishtribe.nsn.us
About the Clinic
Location
The Samish Indian Nation Health Services are located in Anacortes, WA with headquarters at the Health & Human Services Office at 1809 Commercial Avenue.

Services/Programs/Hospitals
The Tribe at this time provides primarily Contract Health Services, a Diabetes Project and a Public Health Nurse program to reach members with chronic health conditions through phone calls and home visits. The Tribe is exploring the partnerships with other medical practices in Anacortes to establish a small ambulatory clinic.
Patients
The Samish Indian Nation administration currently serves over 2000 enrolled tribal members who reside predominantly in Washington State with several families residing in Oregon and dispersed
throughout Idaho, Montana and Alaska. Additional households are located in British Columbia, Canada. Samish currently serves only enrolled tribal members living in the IHS approved service delivery area which includes Whatcom, Skagit, San Juan, Island, Snohomish, King, Pierce, Kitsap, Jefferson & Clallam counties. There were 549 Active users in 2014.To top
About the Tribe
History
The Samish Indian Nation (Tribe or Samish) is a descendent entity of the Samish Tribe, a signatory to the Point Elliott Treaty of 1885. Following the treaty signing the Samish were to be removed to the Bellingham Bay Agency. Fearing religious oppression, the Samish refused to leave Samish Island and other area villages. The Samish maintained their villages throughout the northwest Washington islands and marine shores despite repeated conflicts with homesteaders and failures to be granted the reservation they were promised. In 1969 the Bureau of Indian Affairs made an omission of the Samish from the list of federally recognized tribes. A 27-year series of legal battles ensued in order to regain federal status, during which time the tribal members continued to scatter in search of income and opportunities. This created a tribal population that is more urban than many reservation communities in the United States.
One of the main arguments raised by the Bureau of Indian Affairs to deny the appeals by Samish leaders was the widespread geographical profile of the Samish people, implying that no real tribal community existed. Fortunately the Federal District Court judge found in favor of the Tribe possessed wrote in his opinion that in this day of electronic communication, with telephones, faxes and email linking the globe, certainly a tribal community could and indeed does exist regardless of perceived geographical barriers.
Today the Tribe is aggressively moving to reestablish its homeland and presence throughout the Tribe's historical territory. The Tribe, with over 2000 tribal members living mostly throughout the more populated areas of Puget Sound, has taken advantage of technology to conduct business and preserve the culture. All seven Tribal Council and the 50 tribal staff members use technology in the course of their work. A language preservation project has digitally encoded over 200 hours of interviews with first language speakers for use as the foundation of an interactive Samish language program. Added to these accomplishments is the Tribal website, in constant revision and update. There is little doubt the Tribe is actively living up to the name Judge Torbett coined when he dubbed Samish the Cyber Tribe in his 1994 opinion.
A General Council governs the Samish. An annual General Council meeting is held the last sunday in June. The General Council gives direction to the seven-member Tribal Council and maintains active participation through the seven Tribal Council appointed committees: Natural Resources, Health and Human Services, Housing, Personnel, Enrollment, Election and Cultural. The Samish Tribal Council envisions a virtual Indian community where each tribal member is connected to tribal government and tribal administration via telecommunications.
Tribal Culture
The Samish are people of the salt water, canoes linked the numerous villages prior to European contact, and we are bringing our people home to the culture through participation in the annual Coast Salish Tribal Journeys Canoe celebrations. With a few fluent first speakers of the Samish language still living, the Tribe is also actively pursuing high tech methods of reintroducing the language among our widespread population through Distance Learning and web based formats. The Samish have historically been known as master carvers and blanket weavers, and recently these skills are once again emerging from our membership.
The Maiden of Deception Pass story pole at Bowman's Bay in Deception Pass State Park is dedicated to one of the most significant of our tribal stories.
Geography
Anacortes is situated on Fidalgo Island, accessible by bridge to the mainland, and is often known as the gateway to the San Juan Islands via the Washington State ferry system. Seattle is 80 miles south, and Vancouver BC is 90 miles north. A small microclimate keeps Anacortes drier than most other parts of the northwest, we have about 40 more days of sunshine than Seattle, and 12 inches less rainfall as well. Temperatures average 45 in winter, and about 70 in summer.
Numerous beaches and protected forestlands provide ample opportunity for hiking, beachcombing, whale watching, kayaking and other outdoor activities. Skiing and snowboarding are available two hours away at Mt. Baker Resort.
During the first weekend in August, the annual Anacortes Arts Festival attracts art sellers and art lovers from all over the state. A weekend of art shows, children's activities, food and entertainment center around the 250 booths lining Commercial Avenue. Many small art galleries are open year round, in addition to unique shops in the old town district.
Other Information
Members
2065 enrolled members.
Other Offices and Programs
Fidalgo Bay Resort, Archives, Culture, Natural Resources, Family Services, Head Start and Early Learning, Elders, Enrollment, Education, Languare, Tribal Vocational Rehabilitation and Planning.
Total Tribal Employees
50 FTE, some seasonal part-time.