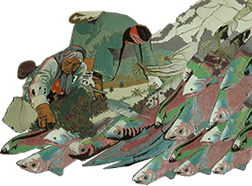 IHS Training (RPMS)
How do you manage Resource and Patient Information?
The Resource and Patient Management System (RPMS) is an integrated solution for the management of clinical, business practice and administrative information in healthcare facilities of various sizes. Flexible hardware configurations, over 50 software applications, and appropriate network communication components combine to provide a comprehensive clinical, financial, and administrative solution. This solution is in use at most health care facilities within the Indian health care delivery system. The training for this database software is continually being provided by the Northwest Portland Area Indian Health Board in cooperation with the Indian Health Service. All students are welcome from around the nation. Up to date courses are offered in RPMS by knowledgeable instructors using the latest computer equipment and software.
NORTHWEST DIABETES MANAGEMENT SYSTEM TRAINING
December 3-5, 2013
March 11-13, 2014
June 3-5, 2014
September 23-25, 2014
December 2-4, 2014
Get the registration form!
View the agenda!
NPAIHB Office view
NPAIHB Office view
NPAIHB Office view
View the Training Room
View the Training Room
Parking near the NPAIHB Office
Parking lot directions and information (pdf)
(On-site parking by special request only, we only have 5 reserved spaces.)
PAO/IHS Training Contact:
PAO-DIRM
503.414.7755
1414 NW Northrup Street STE 800
Portland, Oregon 97209

Hotel Information
Hotels within 1 mile of NPAIHB Office
More Hotels within 1 mile of NPAIHB Office
Office of Information Technology (OIT) National Training Schedule