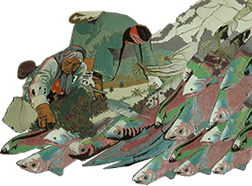 Health Professions Education Project (HPEP)

Project Description
The Health Professions Education Project (HPEP) is designed to recruit and assist American Indian/Alaska Natives who are members of the represented tribes or who reside within the states of Washington, Oregon and Idaho to enter and complete graduate level health programs. The goal is to increase the number of Indian health professionals serving Area Indian communities. To this end, recruitment efforts will be aimed at the 43 NPAIHB tribal education and tribal health offices as well as Indian undergraduate students at regional colleges and universities.
Project Services
HPEP's primary objectives are to:
Recruit Indian men and women into health education programs by providing information on these programs.
Share financial aid resource information and assist students in the financial aid process.
Review and edit application essays for admissions and scholarships.
Provide information on standardized test sites and dates (SAT, GRE, and MCAT).
Provide general assistance to Indian students in health education programs.
Assist students in connecting with a variety of services available to them, including housing, child care, and counseling.

Scholarships, Grants, Work-study and Loans
Upcoming Scholarships
Barbara Jordan Health Policy Scholars Program
Structure: Through the nine-week program (June 1 - July 30, 2004), Scholars gain knowledge about federal legislative procedure and health policy issues, while further developing their critical thinking and leadership skills. In addition to an internship in a congressional office, Scholars participate in seminars and site visits to augment their knowledge of health care issues, and write and present a health policy research paper. The program is based at Howard University.
Eligibility: Eligible candidates must be U.S. citizens who are members of a racial/ethnic minority group and will be seniors or recent graduates of an accredited U.S. college or university in the fall of 2004. Candidates are selected based on academic performance, demonstrated leadership potential and interest in health policy.
Compensation: Scholars receive approximately $5,000 in support, which includes a stipend, daily expense allowance, airfare and lodging.
Deadline: All application materials are due by January 30, 2004
Additional information: Application forms and additional information about the Program are available online at www.kff.org/docs/topics/jordanscholars.html
Scholarships and Grants
The best part of scholarships and grants is that they do not have to be paid back. They are, essentially, free money. The U.S. government funds two of the largest grant programs: the Federal Pell Grant and the Federal Supplementary Educational Opportunity Grant. Your state also may have a state grant program.
Most other grants and all scholarships come either from the college you plan to attend or from private sources, such as the American Indian College Fund, service groups, religious groups, companies, and perhaps, even your own employer.
There are special scholarships available to American Indian students. For example, individual tribes contract with the Bureau of Indian Affairs (BIA) to administer the "Higher Education and Adult Vocational Education Programs." Tribes also may offer their own scholarships, although the amounts are usually small.
In addition, some colleges and universities provide financial incentives to encourage Native American students to enroll. And, private groups may earmark special scholarships for Indians. For example, the Daughters of the American Revolution American Indian Scholarship Fund typically awards $500 in scholarships to Native American students all across the country.
Finding these grants and scholarships isn't always easy, and it takes time to fill out the applications. But it is well worth the effort. Be sure you know the deadlines for filing the applications. Your tribe, local library, the Internet, high school guidance counselor, and the financial aid office at the colleges you are interested in attending are all good sources to help you with your search. Also keep in mind that it's possible to be awarded more than one scholarship or grant!
Three things are very important to remember when applying for these grants and scholarships, or for any financial aid, for that matter:
* Most scholarships decisions are made early.
* You must complete the required paperwork.
* You turn in the paperwork by, or preferably, before, the required deadlines.
Scholarship Scams
The National Association of Student Financial Aid Administrators estimates that thousands of Americans are conned out of millions of dollars each year during their search for scholarship money.
To avoid becoming a victim of such a scam:
* Never pay a fee for scholarship money.
* Never give a stranger your credit card or bank account numbers.
* Don't fall for "guarantees" or claims that someone has information you can't get anywhere else.
There are no guarantees you will get a scholarship but legitimate scholarships will not charge fees to give you the money. Of course, you have to do your homework to find these scholarships. You must do the work it takes to find a scholarship.
Web Searches
The Internet provides one of the easiest ways to get free, current information about colleges and financial aid. Some Web sites to check out:
* American Indian Science and Engineering Society (AISES)
* College Board
* FastWEB - financial aid search through the Web
* Minority On-Line Information Service - scholarships and fellowships
* National Association of Student Financial Aid Administrators
* SallieMae - Scholarship service
Work-Study Programs
Many students work their way through college. Sometimes this means it takes longer to graduate. But, these students usually have a great appreciation for their college education because they worked for it.
You can also apply for a special Federal Work-Study Program when you are seeking other financial aid. Under this program, colleges help find jobs for students, and the federal government helps pay the salary.
You might also have an opportunity to participate in an intership program during college. Although most internships are not paid, students usually get class credit and gain a wealth of experience that will help them find a job when they graduate. Many graduates get their first jobs as a direct result of internships.
Loans: A Last Resort
Ideally, you would like to be debt-free when you graduate from college, but this isn't always possible. As a last resort, you may have to turn to low interest, federal student loands to meet your financial needs.
The three main student loans are the Federal Perkins Loan, Federal Stafford Loan, and the Federal Direct Loan. These loans must be repaid after you complete your college education. You get a break on interest charges, however. The Federal Perkins Loan, the Federal Stafford Loan, and the Federal Direct Loans do not charge interest while you are in college.
Two other alternatives are the Unsubsidized Stafford Loan and the Unsubsidized Direct Loan. These loans may accrue interest while you are a student, or you may start making interest payments while you are in school. Because of the cost of paying interest on these loans, you should only uyse them as a last alternative.
No matter what kind of loan you take out, when you accept the loan, you will sign a promissary note. A promissory note is your pledge to repay the debt. It is a legal document.
In a few sitations, however, the federal government may "forgive" your loan. This means you wil not have to repay part or all of the loan. For example, if you have a Federal Perkins Loan and you go into law enforcement or teach in a federally designated low-income area, you will not have to repay the Perkins Loan if you stay in that job for at least five years. If you leave the job before five years, part of the loan will be forgiven.
Private loans are another option to brifge teh moentary gap between what teh school or federal government can help you with and what you need. Private loans areusually more expensive than government loans. In addition, if you borrow from more than one source - for example, a Federal Perkins Loan, a Federal Stafford Loan, and a private loan - you will have three separate loan payments to make.
Sources of private loans include:
* personal loans from a bank or credit union
* loans from a life insurance policy that has a cash value
* loans from your or your parents' retirement plan (use this source only if you know you will repay the loan well before retirement)
A warning about private loans: More and more private loans are being marketed to college students. Review a loan's provisions very carefully before you accept it. Make sure you understand what you will have to repay and when. Most important, do not borrow what you don't need.
In general, be careful about going into debt to pay for college. Many students spend 10 or 20 years repaying their college loands, and if you have to pay interest on the loan, the debt can quickly mount up. For example, if you borrow $23,000 in a Federal Stafford Loan, you will have to pay $282 every month for 120 payments over 10 years. (This assumes an 8.25% interest rate and a 10-year payback period.) By the time you pay back the $23,000, plus interest, you will have paid a total of $33,840 for the loan! Private lending sources will cost even more.
On the other hand, keep in mind that a loan is an investment in your future. If your job prospects after college arte good, you will be able to repay your loans.

An Important Note about Tribal Colleges and Student Loans
Most tribal colleges do not participate in the federal student loan program. They prefer to help their students keep costs down with low tuition and fees, and by enabling students to live at home whileattending college. Tribal colleges are also very active in helping students obtain grants and scholarships that do not have to be repaid. This approach is a huge financial benefit for students.
Here's an example: Assume you are the student in the example on this page who took out a $23,000 loan to cover part of the costs of attending a four-year mainstream college. With interest, you will end up paying back a total of $33,840.
But what if you go to a tribal college for your first two years and then transfer to the four-year school to get your degree? Since you will only be at the mainstream university for two years, your loan needs will be cut in half, from $23,000 to $11,500. Your monthly payment will be $141 a month instead of $282. Your total bill will be reduced by half, from $33,840 to about $16,920. Quite a savings. And you will still end up with the same college degree!
Reproduced with permission from the American Indian College Fund