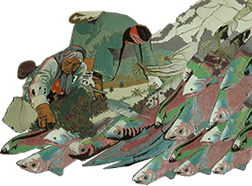 Hanford Tribal Service Program
Looking Back at the Hanford Tribal Service Program 1991 - 2000
Project Description
The Hanford Tribal Service Program was created in 1991 by a grant from the Federal Government.
It is located in the offices of the Northwest Portland Area Indian Health Board in Portland, Oregon.
Area map of Tribal radioactive contamination
Project Services
The Hanford Tribal Service Program is part of the Hanford Health Information Network (HHIN), an overall effort to educate citizens about the possible health effects of radiation released from the Hanford Nuclear Reservation in Richland, Washington. The Hanford Tribal Service Program provides two main services: health education and technical assistance in the areas of health assessment, data analysis and computing. The feasibility of developing referral systems and registries for those exposed to Hanford radiation will also be analyzed through this program.
The nine affected tribes, who were either down wind or down river from Hanford are: Colville, Coeur d'Alene, Kalispel, Kootenai, Nez Perce, Spokane, Umatilla, Warm Springs, and Yakama.
The Hanford Health Information Network (HHIN) Tribal Service Program Tab Members
Tribes involved and Tribal Advisory Board MEMBERS
KALISPEL TRIBE David Bonga
NEZ PERCE TRIBE John Stanfill
SPOKANE TRIBE David Ernst
COEUR d'ALENE Al Garrick
COLVILLE CONFEDERATED TRIBES Deb Louie
KOOTENAI TRIBE of IDAHO Preston Kinne
CONFEDERATED TRIBES of WARM SPRINGS Madeline Queahpama-Spino
UMATILLA TRIBE Jo Marie Tessman
YAKAMA NATION Moses Dick Squeochs
Hanford Health Information Archives
Gonzaga University of Spokane, Washington is the home of the Hanford data repository. This will be the first time information is in one place and made available to the public. The main purposes of the Archives are to:
* document health and personal histories of people who were exposed to Hanford's radiation
* give information that might help another downwinder
* provide information that may point to fruitful areas for future health studies
This archive is dedicated to collecting and preserving the personal records of people who have lived, worked, or spent time downwind or downriver from Hanford between 1944 and 1972. This area includes Eastern Washington, northeastern Oregon, much of Idaho, into Montana and Canada, and the Columbia River from Hanford to Pacific coastal areas. Even though the Archives are open to the public, donor confidentiality is protected by federal law. If you choose to become an Archives donor, YOU will decide whether to make your name available to the public. It's up to you.
To learn more about the Archives call this toll-free number:1-800-799-4442
The Hanford Health Information Archives Expand Scope
Paraphrased from HHIN Connections, Fall 1997, "Archives Expand Mission"
The Hanford Health Information Archives (HHIA) is broadening the collection of data to include donations of information from exposed individuals from both the nation and globally. The intent is to give those exposed to Hanford radiation points of comparison. The broader scope will make HHIA the only source of information available globally about health effects of nuclear weapons production.
The Radiation Health Effects Archives (RHEA), a nonprofit organization, was created as a result of the expanded scope. The purpose of RHEA is to raise funds necessary to maintain HHIA in the future and to support the new expansion of scope.
For more information contact: Tom Carter, Associate Dean of Foley Library (509) 328-4220 ext. 3125
Reference these sites for more information on Hanford:
* Hanford Health Information Archives
* Department Of Energy/Hanford
* U.S. Department Of Energy Office of Human Radiation Experiments
* Hanford Health Information Network
* Hanford Thyroid Disease Study