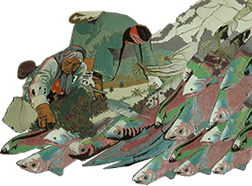 Circle of Health: Information Infrastructure for Northwest Tribes
Circle of Health Project: Information Infrastructure for the Northwest Tribes (TIIAP Grant)
Q. What is the Telecommunications and Information Infrastructure Assistance Program (TIIAP)?
A. "The Telecommunications and Information Infrastructure Assistance Program (TIIAP) is a highly-competitive, merit-based grant program that brings the benefits of an advanced national information infrastructure to communities throughout the United States. TIIAP grants play an important role in realizing the vision of an information society by demonstrating practical applications of new telecommunications and information technologies to serve the public interest.
TIIAP provides matching grants to non-profit organizations such as schools, libraries, hospitals, public safety entities, and state and local governments. Grants are used to fund projects that improve the quality of, and the public's access to, education, health care, public safety, and other community-based services. The grants are used to purchase equipment for connection to networks, including computers, video conferencing systems, network routers, and telephones; to buy software for organizing and processing all kinds of information, including computer graphics and databases; to train staff, users, and others in the use of equipment and software; to purchase communications services, such as Internet access; to evaluate the projects; and to disseminate the project's findings.
Since its inception in 1994, TIIAP has generated tremendous interest. The program has received more than 4,600 applications, requesting $1.8 billion, from across the country. Because TIIAP is a matching grant program, the applications have spawned hundreds of millions of dollars in commitments from local, state, and private sector sources.
In September, 1997, TIIAP awarded 55 grants in 38 states and the District of Columbia, totaling $20.9 million and matched by $25 million in non-Federal funds. Among other applications, these new projects will help develop a telemedicine system for emergency medical services for accident victims in rural areas; use the Internet to provide chronically ill children an opportunity to continue their education and maintain contact with peers, teachers, and parents; create an information network that will help agencies prevent fatal child abuse; and develop a computer-aided dispatching and fire management system that will provide weather information to fire management specialists to control the placement of fire fighting resources in rural area. By serving as models that can be replicated in similar communities across the country, TIIAP projects extend their benefits far beyond the communities in which they take place, and provide economic and social benefits to the nation as a whole.
Since 1994, TIIAP has awarded 332 grants in 50 states, the District of Columbia and the U.S. Virgin Islands. Approximately $100 million in Federal grant funds have been matched by more than $150 million in non-Federal funds. A significant portion of the funding has gone to rural regions and rural states, where telecommunications has the power to bring new opportunities for learning and job creation to residents in isolated areas."*
To learn more about the TIIAP program or to see a list of 1997 grantees, please visit the National Telecommunications and Information Administration's (NTIA) website.
* passage is an excerpt from the NTIA's TIIAP page (an agency of the Department of Commerce).
Q. What is the Circle of Health Project?
A. The Northwest Portland Area Indian Health Board will create a project known as Circle of Health: Information Infrastructure for the Northwest Tribes. The Circle of Health project will focus on disease surveillance and the collection and analysis of epidemiology information in geographically remote tribal communities in the Pacific Northwest. Working with tribes, state health departments, and the Indian Health Service (IHS), the Circle of Health project will connect eight tribal health facilities to the Indian Health Service, the Washington State network, and the Internet, and allow Washington tribes to use electronic communicable disease reporting systems.
Due to many factors, including the downsizing of IHS and the elimination of regional programs, the Northwest Tribes have been without epidemiology services since 1995. The Northwest Tribes are concerned about the lack of access to regional and tribal specific health status information, the lack of chronic and infectious disease surveillance, and the inability to respond adequately in case of disease outbreaks. The project will incorporate health data collected from the tribal health programs into health policy decision-making and create a more effective evaluation of public health interventions. Communications made available through this connectivity will dramatically decrease the time it takes for outbreaks of infectious disease to be recognized and provide tribal health programs with rapid, coordinated notification of infectious disease cases and outbreaks. The Circle of Health will also increase the capacity of tribes to address health research, disease surveillance, and information technology issues.