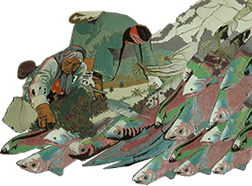 EHR and Meaningful Use Support Center
Welcome to the EHR and Meaningful Use Support Center
As of June 2013, the NPAIHB REC has:
161 providers signed up with us
43 of these providers spread over 9 sites have met Stage 1 MU
About $1.5 million in incentive money through the MU program has been paid to providers in the Portland Area
Through the Topics listed on the right hand side of this page, we hope you will find useful, clear, and concise information.
The Medicare and Medicaid EHR Incentive Programs will provide incentive payments to eligible professionals as they adopt, implement, upgrade or demonstrate meaningful use of certified EHR technology.
The EHR Incentive Programs are in full swing, with several Portland Area clinics already receiving their first incentive payments on behalf of their providers.
The Northwest Portland Area Indian Health Board in partnership with the National Indian Health Board is a Regional Extension Center (REC) for the Portland Area. The REC is established to help providers demonstrate Meaningful Use of a certified electronic health record. The goal is to improve health outcomes and reduce health disparities in our population through the use of an electronic health record.
As of April 2012, the NPAIHB REC has 129 Portland Area providers signed up with us
The EHR Incentive Programs are processing and due to pay out over $1 million to participating providers and their sites who participated in the programs for 2011 in the Portland Area
Brief Overview:
For the EHR Incentive Program, there are 2 routes you can choose, based on your situation and what you qualify for. There is a Medicaid Program and a Medicare Program.
Tip: If you qualify for both programs, you probably want to choose the Medicaid program because your incentive payments have the potential to be more over the life of the program than if you choose the Medicare program.
Tip: Registration—start it early! It can take time to reset forgotten passwords, get people to log in and reassign privileges if someone will attest on the provider's behalf, etc
For questions, please contact:
Katie Johnson, Pharm D
LCDR USPHS
EHR Integrated Care Coordinator
Manager, NPAIHB Regional Extension Center
Meaningful Use Common Abbreviations:
COTS = Commercial Off the Shelf System (usually used to refer to EHRs other than RPMS EHR)
CMS = Centers for Medicaid and Medicare Services
EHR = Electronic Health Record
MU= Meaningful Use
ONC = Office of the National Coordinator for Health Information Technology
REC = Regional Extension Center