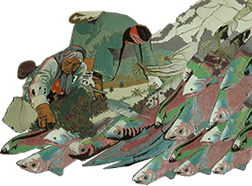 State Issues
STATE POLICY ISSUES & OTHER HEALTH-RELATED AGENCIES
The Northwest Portland Area Indian Health Board is charged with facilitating State–Tribal relationships in Idaho, Oregon, and Washington. This important aspect is carried out via quarterly meetings between key representatives from State health agencies, Tribal leaders and Health Directors, as well as other Indian health advocates to assure Tribal interests are taken into account as
health policy is formulated.
Information on state health policy matters and other related information that affects American Indian and Alaska Native health programs in the states of Idaho, Oregon and Washington are listed to the right.
State Legislative and Administrative Information
The State Legislative Web page will be updated soon!
Affiliated Tribes of Northwest Indians
The Affiliated Tribes of Northwest Indians (ATNI) is a collaboration of tribes from the states of Alaska, California, Idaho, Montana, Oregon and Washington. ATNI tracks a broad range of legislation. NPAIHB chair, Andy Joseph, Jr. (Colville), is the chair of the ATNI health committee, and the NPAIHB staffs the committee.
Links
http://www.goia.wa.gov
http://www.doh.wa.gov/sboh/
http://cms.hhs.gov/
State Committees and Commissions on Indian Affairs http://www.ncsl.org
Latest State Issues