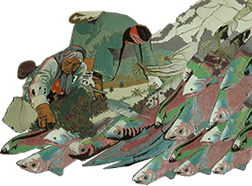 Warm Springs Tribes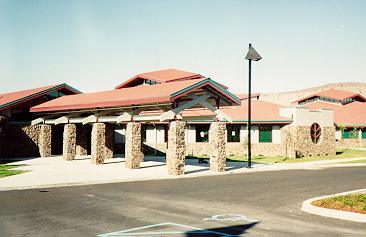 Confederated Tribes of Warm Springs
Warm Springs Health & Wellness Center
PO Box 1209
Warm Springs, OR 97761
Phone: 541-553-1196
Fax: 541-553-3543
Webpage: http://www.warmsprings.com
About the Clinic
Location
The Warm Springs Health & Wellness Center was completed in the fall of 1993. This facility (37,000 sq. ft) is owned by the tribe and made available to the Indian Health Service for direct medical and dental health care. An older brick building dating to the 1930's is utilized for the Alcohol and Mental Health Counseling Program.
All direct dental and medical professionals are hired by the federal government. Five medical doctors and four dental professionals including a pediatric dentist comprise the staffing package at the Health and Wellness Center. One psychologist and psychiatrist, along with the director make up the professional staff at the Community Counseling Center.
The Confederated Tribes of Warm Springs in conjunction with the Indian Health Service provides comprehensive direct health care services for the tribal members, other federally recognized Indian tribes and other appropriate segments of the local population. Contract Health is provided to those living on the reservation or designated catchment area and is paid by the Managed Care Program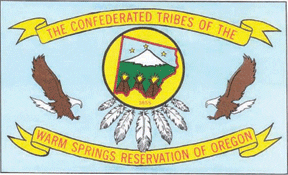 operated by the Confederated Tribes. Podiatry, Phematology, Cardiology, ENT, Pediatric Nephrology, oral surgery and Endodontia services are also provided. Ancillary support classes in nutrition, healthy cooking and exercise programs are provided to all patients. The Confederated Tribes provides mental health, substance abuse, WIC, MCH, Home Health, Physical Therapy, and Healthy Kid's Program services to these same patients. The total patient population is approximately 5,750 annually.
Services/Programs/Hospitals

About the Tribe
History
The Confederated Tribes of Warm Springs is made up of three main tribes: Warm Springs, Wasco, and Paiute. Warm Springs treaty rights date back to 1855 and the current day government is conducted by the Tribal Council. This body is made up of eight elected officials from the three districts and one chief from each tribe.

Geography
The Warm Springs Indian Reservation is more than 641,000 acres of arid canyons and mountain forests. Parts of Jefferson and Wasco counties are within the reservation boundaries. Local off reservation communities' principal industries include agriculture, ranching, and recreation. Average temperature range is from the 90's in the summer to the 20's in the winter. The area is a high desert plateau and is home to various recreational activities which include boating, biking, camping, fishing, hiking, skiing, rafting and swimming. Bend, a town of approximately 20,000 and one hour from Warm Springs, is the primary destination for social activities and entertainment. Portland Metropolitan Area is 105 miles from Warm Springs and offers various social activities and entertainment.
Other Information
Members
3,755.
Other Offices and Programs
Includes: Kah-Nee-Ta High Desert Resort, Indian Head Gaming, Warm Springs Power Enterprise, Warm Springs Forest Products Industries, and the KWSO Radio Station. To Top
Total Tribal Employees
575 approximately full-time employees which can fluctuate to 1200 during peak work seasons. An additional 350 full-time individuals are employed at the various tribal business enterprises. To Top
Housing
Virtually no rental housing is available in Warm Springs. The selling of a home is restricted, consequently housing is typically off-reservation starting in Madras (14 miles), Redmond (40 miles), and Bend (56 miles). Rental units and home sales are very competitive and lure many individuals and families to Central Oregon.
.(JavaScript must be enabled to view this email address)
Previous Page