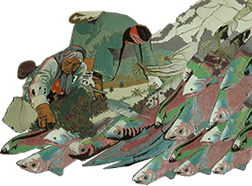 Umatilla Tribes
Umatilla Tribes
Yellowhawk Clinic
PO Box 160
Pendleton, OR 97801
Phone: 541-966-9830
Fax: 541-278-0839
Webpage: http://www.umatilla.nsn.us
About the Clinic
MISSION
To promote and facilitate engineering planning and construction support for the IHS national facilities program by developing and enhancing relationships among Tribes, area offices, and Service Unit engineers and related professionals dealing in building health care systems.
Attainment of the IHS and DHHS missions
The DFPC mission is achieved by:
* Maintaining a priority list based on relative need.
* Supporting tribes when they choose to assume facilities-related responsibilities.
* Planning health care and associated facilities to minimize facility life-cycle costs.
* Planning, promoting, & constructing improvements to exist. Facilities where they are not optimally functional.
* Planning & constructing new facilities when existing facilities do not exist or cannot be effectively improved.
* Developing state-of-the-art facilities with efficient and effective facilities planning.
* Targeting the unmet need with limited resources for maximum effectiveness.
DFPC Vision
To be a Global Health Care Facilities Engineering Division leading cutting edge professionalism in support of Public Health advances and development of solutions to the Indian Health Service challenges.
Location
The Yellowhawk Clinic is approximately 20 years old. The Yellowhawk Clinic services include: Administration, Medical Clinic, Community Health Representatives, Alcohol & Drug, After-Care and Rehabilitation and the Transition House, Lab/X-Ray, Dental, Nutrition/WIC, Mental Health, Seniors, Public Health Nurse, Sanitation, Contract Health and Facility Maintenance. The above programs reflect those historically provided by the Indian Helath Service, aside from the Transition House, Senior Program and Nutrition/WIC. The total patient population is approximately 5,000.
About the Tribe
History
The members of the Umatilla Indian Reservation are descendants of the Cayuse, Umatilla and Walla Walla Indian Tribes. They overlap economically, socially, in language, and after years of intermarriage, to the point that tribal distinctions are becoming less and less pronounced. The Walla Walla Treaty of 1855 was negotiated at Fort Walla Walla between the government and the three tribes. The Treaty contained 11 articles and established the Umatilla Indian Reservation for the three tribes. They became known as the Confederated Tribes of the Umatilla Indian Reservation. Rather
than accept the provisions of the Indian Reorganization Act of 1934, the tribes adopted a written Constitution and By -Laws which were approved by the Secretary of the Interior on December 7, 1949. This Constitution established the present tribal government.

About the Area
Geography
The Umatilla Reservation covers 157,982 acres, about 8% of Umatilla County. City: Pendleton, population 14,660. Elevation 1,068. Incorporated 1880. County: Umatilla, population 60,000. 3,231 square miles. Per capita income (1986) $11,654. Rainfall 12.2. Average temperatures 32.8-73.8. County's true cash value averages out at $696 an acre. Principal industries: agriculture, food processing, wood products, tourism, manufacturing, and recreation.
Other Information
Members
Approximately 2,000.
Other Offices and Programs
Include Tribal Longhouse, education and gym offices; police and law and order, Board of Trustees, Administration, Department of Natural Resources, Department of Fisheries, Landfill Office, grain elevator, and Economic Development Office. An economic development plan is in place. The tribe also owns a store.
Total Tribal Employees
360.
Housing
No tribal housing available; housing available in the City of Pendleton, approximately 5 miles away.
.(JavaScript must be enabled to view this email address)
Previous Page