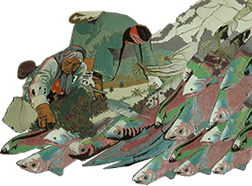 Shoshone-Bannock Tribes
Shoshone-Bannock Tribes
Not-tsoo Gah-nee Health Center
P.O. Box 306
Fort Hall, ID 83203
Phone: 208-238-2400
Fax: 208-478-3950
Webpage: www.shoshonebannocktribes.com
About the Clinic
Facilities/Services Planning

MISSION
To promote and facilitate engineering planning and construction support for the IHS national facilities program by developing and enhancing relationships among Tribes, area offices, and Service Unit engineers and related professionals dealing in building health care systems.
Attainment of the IHS and DHHS missions
The DFPC mission is achieved by:
* Maintaining a priority list based on relative need.
* Supporting tribes when they choose to assume facilities-related responsibilities.
* Planning health care and associated facilities to minimize facility life-cycle costs.
* Planning, promoting, & constructing improvements to exist. Facilities where they are not optimally functional.
* Planning & constructing new facilities when existing facilities do not exist or cannot be effectively improved.
* Developing state-of-the-art facilities with efficient and effective facilities planning.
* Targeting the unmet need with limited resources for maximum effectiveness.
DFPC Vision
To be a Global Health Care Facilities Engineering Division leading cutting edge professionalism in support of Public Health advances and development of solutions to the Indian Health Service challenges.
Location
The Not-So-Gah-Nee Health Clinic is a 28,915 square foot out-patient clinic, which opened October 9, 1990. Clinic offices include: Out-patient Clinic, Dental, Pharmacy, Lab, X-ray, Optometry, Podiatry, Audiology and Contract Health Services. Over 50,000 patients are seen yearly. The Health Center employs 4 Physicians, 1 Physician Assistant, 3 Nurse Practitioners, 4 LPN's, 6 Registered Nurses, 1 Clinical Social Worker, 2 MSW's, 2 BSW's, 1 Nutritionist, 2 Health Educators, 3 Dentists, 1 Dental Hygienist, Lab technicians, Optometrist and technician, 2 Psychologists, and a Mental Health technician. These positions are tribal and federal hires (IHS). Tribal Health Programs include the following: Health Administration, Maternal and Child Health, Public Health Nurse, Preventive Health, First Responder, Community Health Representatives (CHR), Counseling & Family Services (CFS), Victims of Crime Assistance (VOCA), Social Services, Elderly Nutrition, Youth Transitional Living Center (YTLC),
Recreation, and Chemical Dependency (TCDP). The Indian Health Service (IHS) includes the following: Dental, Environmental Health Services, and Women, Infants & Children. The total population is 6,000.
About the Tribe
History
The Reservation was established by the Treaty of July 2, 1863, at Fort Bridger, Utah. A later treaty of July 30, 1883, defined the reservation further as the land area bordered on the East by the Portneuf Mountains and on the West by Raft River. An Executive Order, July 14, 1867, set apart the Reservation for the Boise and Bruneau Bands of the Shoshone and Bannock Indian Tribes. The original 1,800,000 acres were reduced to 1,336,000 acres in 1869, and in 1900 additional land was ceded to the government leaving the existing 540,764 acres within the Reservation. The aboriginal lands included large areas of Idaho and surrounding states. Included were the Salmon and Snake River country spanning into what is now southern Idaho. The Shoshone-Bannock Tribes, Inc. became a federally chartered corporation under the Indian Re-organization Act on April 17, 1937. The Shoshone-Bannock Tribal Constitution and By-laws were adopted by the Tribes and approved by the Secretary of the Interior on April 30, 1936. The Fort Hall Business Council is the official governing body of the Shoshone-Bannock Tribes, Inc. The terms of office are two years. Each year the council elects its own chairman, vice-chair, and sergeant-at-arms.
Geography
The Reservation occupies 524,557 acres adjacent to Interstate 86 and Interstate 15 in southeast Idaho. The tribe is known for the Sun Dance held during late July and the Annual Shoshone-Bannock Indian Festival held in early August. The Town of Fort Hall is small and unincorporated with an elevation of 4,754 ft. It was one of the first permanent Europe-American settlements in Idaho, established in 1834 as a trading post. Military post started in 1849. The original Fort was on the bank of the Snake River 11 miles west of the present site. It is a few miles north of Pocatello (Population 45,000). Tribal office is on the Fort Hall campus east of the townsite. The Reservation lies in parts of several counties: Bingham County: population 37,600. Principal industries include agriculture, food processing (potatoes) and mining (phosphate, vanadium and sand & gravel). Bannock County: population 68,400. Pocatello's elevation is 4,365 ft., rainfall, 10.9 inches, average temperatures, 30-74. Principal industries include engineering, agriculture and food processing, tourism, mining (limestone, vanadium), mining management, manufacturing, distribution. Caribou County: population 7,300. Principal industries include mining (phosphate, limestone), and agriculture.
Other Information
Members
3,951 enrolled members.
Other Offices and Programs
Vocational Rehabilitation, Police Department, Tribal Courts, Commodity Program, Shoshone-Bannock Jr./Sr. High School, Fisheries, Fish & Wildlife Biologist, Fish & Game Department, Early Childhood Programs (Head Start, Child Care, & Early Intervention), Housing Improvement Program (HIP), Lincoln Creek Community Center, Extension Services, Cultural Resources, Salmon Corp., DOE Environmental, Credit, Education, Employment & Training, Enrollment, First Responder, Fire Station, Fort Hall Housing Authority, Land Use, Library, Elderly Nutrition, Sho-Ban News, Tribal Employment Rights Ordinance (TERO), Utilities, Tribal Construction, Administration, Personnel, Property & Procurement, Facilities, Finance, BIA, Tribal Enterprises, and Gaming.
Employees
Tribal: 227 Full-time, 25 part-time; IHS: 62 employees.
Housing
Housing is available in the towns of Chubbuck and Pocatello immediately south of the reservation and Blackfoot immediately north of the reservation.