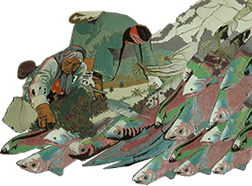 Sauk-Suiattle Tribe
Sauk-Suiattle Tribe
Sauk-Suiattle Tribal Community Clinic
5318 Chief Brown Lane
Darrington WA 98241
Phone: 360-436-1124
Fax: 360-436-0242
Webpage: http://www.sauk-suiattle.com
About the Clinic
The goal of the Sauk-Suiattle Indian Tribe Health and Social Services Department is to provide health care, social services, drug and alcohol prevention, aftercare rehabilitation, and alcohol counseling to children, youth, adults, and elders of our community in a manner that best reflects our cultural beliefs.
We aim to create safe and healthy paths to bridge the differences between our Sauk Suiattle culture and the majority culture. We provide a safe environment where our people can reframe and incorporate the values of the elders, in order to build a solid secure future all the while respecting each individual's unique identity. We also communicate to other agencies and departments the needs of our community and advocate to protect and defend the unique qualities of our spiritual life.
Through the provision of these services, and maintaining a congruency between our culture and the regulating standards, we will move towards self sufficiency, provide the continuity to link our generations, and promote the growth of a strong people.
Location
The clinic has 611 SF and is owned and operated by the Tribe. The Tribe's Contract Health Service Delivery Area (CHSDA) is Snohomish and Skagit Counties. The enrolled tribal population is 183 and the Indian population living on or near the reservation is 273.
Services/Programs/Hospitals
The Tribe operates a small outpatient clinic with a public health nurse that provides direct medical care four days per week. Additional medical care is available via a "fee for service" contract, with the
Darrington Health Clinic. The Tribe also operates programs: elder care, alcohol/substance abuse, mental health and social services and youth intervention services. The Tribe does not bill Medicare or Medicaid. Programs are operated under a P.L. 93-638, Title I contract with the IHS.
Patients
The active health clinic user population is 175. The leading causes of death are heart disease, malignant neoplasm, cirrhosis of the liver, accidents other than motor vehicle, and cerebrovascular disease. There were 65 Active users in 2002.

About the Tribe
History
The reservation was created by the Point Elliott Treaty of 1855. An executive order of September 9, 1873 clarified the northern boundary and added 59.73 acres establishing the 7,448.80-acre reservation. The people were influenced by Roman Catholic missionaries. Many of the people moved around various areas in Puget Sound seeking employment. They came into conflict with white settlers because of land. In 1884 three quarters of Indians on the reservation were engaged in farming, logging, and milling.
The Sauk-Suiattle Indian Tribe is a Puget Sound Salish speaking group. They lived along the Sauk and Suiattle rivers, tributaries of the Skagit River. The Tribe fished for salmon, a staple in their diet, in the Sauk, Suiattle, and Cascade Rivers by using gaff hooks, spears, and net and fish weirs. The Tribe also hunted game and gathered wild berries and roots. Like many of the coastal tribes the Sauk-Suiattle built permanent winter homes from split red cedar planks. The Tribe elects a seven member Tribal Council to staggered three-year terms. The Sauk-Suiattle Tribe has a constitution, by-laws, fishing, and election ordinance and law and order code. The Reservation consists of two parcels in Skagit and Snohomish Counties with a total of 23 acres.
Geography
City: Darrington, population 11,020, elevation 527 ft. County: Snohomish, population 393,600, Native American 4,412, 15% of non-white population, 1% of total. 2,098 square miles extending from Puget Sound to Cascades. Rainfall (Everett) 45.2 inches, temperatures 42-59. Assessed value of Snohomish County averages $10,922 an acre. Principal industries: Transportation equipment (Boeing), wood products, food processing, electronics. County: Skagit, population 69,500, Native American 1,484, 32% of non-white or 2% of total population. 1,735 square miles. (County extends inland to the Cascades from Rosario Strait at Anacortes and Mt. Vernon.) Assessed value of Skagit County averages $2,463 Principal industries: Wood products, petroleum and coal processing, food processing, agriculture.
Rainfall (Mt. Vernon) 32.2 inches. Average Temperatures 41-60.
Other Information
Members
Our tribal membership numbered around 4,000 before 1855, and by 1924 our numbers had dwindled to 18 members. Residents in the Sauk Suiattle Indian Reservation are the surviving descendents of the original peoples who lived in this special valley. Our current membership numbers around 200 individuals.
Other Offices and Programs
One multi-purpose building that houses administration, pre-school, and housing at the main address.
Total Tribal Employees
45.