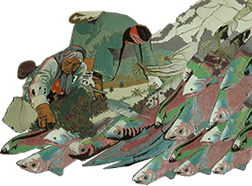 Samish Indian Nation
Samish Indian Nation
2918 Commercial Avenue
PO Box 217
Anacortes, WA 98221


360-293-6404
360-299-0790 fax
Webpage: http://www.samishtribe.nsn.us
About the Clinic
MISSION
To promote and facilitate engineering planning and construction support for the IHS national facilities program by developing and enhancing relationships among Tribes, area offices, and Service Unit engineers and related professionals dealing in building health care systems.
Attainment of the IHS and DHHS missions
The DFPC mission is achieved by:
* Maintaining a priority list based on relative need.
* Supporting tribes when they choose to assume facilities-related responsibilities.
* Planning health care and associated facilities to minimize facility life-cycle costs.
* Planning, promoting, & constructing improvements to exist. Facilities where they are not optimally functional.
* Planning & constructing new facilities when existing facilities do not exist or cannot be effectively improved.
* Developing state-of-the-art facilities with efficient and effective facilities planning.
* Targeting the unmet need with limited resources for maximum effectiveness.
DFPC Vision
To be a Global Health Care Facilities Engineering Division leading cutting edge professionalism in support of Public Health advances and development of solutions to the Indian Health Service challenges.
Location
The Samish Indian Nation Health Services are located in Anacortes, WA with headquarters at the Tribal Administration Office at 2918 Commercial Avenue.
Services/Programs/Hospitals
The Tribe at this time provides primarily Contract Health Services, a Diabetes Project and is developing a Public Health Nurse program to reach members through home visits. The Tribe is exploring the partnerships with other medical practices in Anacortes to establish a small ambulatory clinic.
Patients
The Samish Indian Nation administration currently serves nearly 1000 enrolled tribal members who reside predominantly in Washington State with several families residing in Oregon and dispersed
throughout Idaho, Montana and Alaska. Additional households are located in British Columbia, Canada..Samish currently serves only enrolled tribal members living in the IHS approved service delivery area which includes Whatcom, Skagit, San Juan, Island, Snohomish, King, Pierce, Kitsap, Jefferson & Clallam counties. There were 192 Active users in 2002.To top
About the Tribe
History
The Samish Indian Nation (Tribe or Samish) is a descendent entity of the Samish Tribe, a signatory to the Point Elliott Treaty of 1885. Following the treaty signing the Samish were to be removed to the Bellingham Bay Agency. Fearing religious oppression, the Samish refused to leave Samish Island and other area villages. The Samish maintained their villages throughout the northwest Washington islands and marine shores despite repeated conflicts with homesteaders and failures to be granted the reservation they were promised. In 1969 the Bureau of Indian Affairs made an omission of the Samish from the list of federally recognized tribes. A 27-year series of legal battles ensued in order to regain federal status, during which time the tribal members continued to scatter in search of income and opportunities. This created a tribal population that is more urban than many reservation communities in the United States.
One of the main arguments raised by the Bureau of Indian Affairs to deny the appeals by Samish leaders was the widespread geographical profile of the Samish people, implying that no real tribal community existed. Fortunately the Federal District Court judge found in favor of the Tribe possessed wrote in his opinion that in this day of electronic communication, with telephones, faxes and email linking the globe, certainly a tribal community could and indeed does exist regardless of perceived geographical barriers.
Today the Tribe is aggressively moving to reestablish its homeland and presence throughout the Tribe