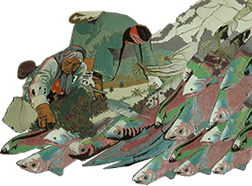 Port Gamble S'Klallam Tribe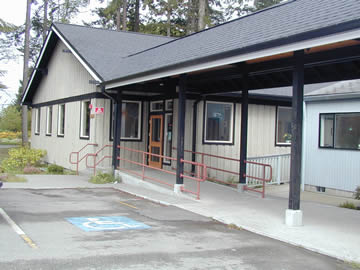 Port Gamble S'Klallam Tribe
Port Gamble Tribal Tribal Health Facility
31912 Little Boston Rd NE
Kingston, WA 98346
Phone: 360-297-6308
Fax: 360-297-7097
Webpage: http://www.pgst.nsn.us
About the Clinic
MISSION
To promote and facilitate engineering planning and construction support for the IHS national facilities program by developing and enhancing relationships among Tribes, area offices, and Service Unit engineers and related professionals dealing in building health care systems.
Attainment of the IHS and DHHS missions
The DFPC mission is achieved by:
* Maintaining a priority list based on relative need.
* Supporting tribes when they choose to assume facilities-related responsibilities.
* Planning health care and associated facilities to minimize facility life-cycle costs.
* Planning, promoting, & constructing improvements to exist. Facilities where they are not optimally functional.
* Planning & constructing new facilities when existing facilities do not exist or cannot be effectively improved.
* Developing state-of-the-art facilities with efficient and effective facilities planning.
* Targeting the unmet need with limited resources for maximum effectiveness.
DFPC Vision
To be a Global Health Care Facilities Engineering Division leading cutting edge professionalism in support of Public Health advances and development of solutions to the Indian Health Service challenges.
Facilities
All Tribal services are located on the Port Gamble S'Klallam Reservation. During the first month of 2001, the primary health clinic moved to a new 4,700 square foot facility with seven exam rooms and a large procedure room. A new four-chair Dental Clinic was added to the Health Center in 1996. The Health Center also houses HHS Administration and various health and human service programs
including community health services, maternal child health, and emergency medical services. Youth prevention programs are housed in the nearby Youth Center. The Tribe's Wellness Program is located about a half mile away.
Health Programs:
According to the Portland Area Indian Health Service, the user population for 1998 is 893. Eight employees work in the Health Clinic and over the year 2000 served 949 people with 4,774 visits.The Tribe maintained its health programs under the status as a Federally Qualified Health Center between August 1, 1995 and December 31, 1998. TheTribe now bills Medicaid under the Memorandum of Agreement between Indian Health Service and Health Care Financing Administration. The Tribe is still billing Medicare as a Federally Qualified Health Center. The HHS Department plans to request a review through Accreditation sociation for Ambulatory Health Care (AAAHC) in the near future. A Health Advisory Committee meets monthly to guide the hilosophy, programs and policies of the Health and Human Services Department.Tribal members eligible for Contract Health Services are equired to use the Tribal Health Clinic as a primary care resource and referral center. Over the past several years, the ort Gamble S'Klallam Tribe has been able to significantly expand the programs and services within our Health and Human Service Department and provide extra CHS benefits to the tribal community. The Tribal Clinic is a primary care case manager for the State of Washington Healthy Options program and a primary provider for the Basic Health Plan, a State subsidized health rance program. The Tribe purchases health care coverage through the Washington State Health Care Authority's Basic Health Plan. This approach to health care has been able to sustain the costs of additional providers and administrative billing staff. The Tribe is managing the Dental Services Program for all Native Americans in Kitsap County. Construction of the new, four chair dental facility was completed in April, 1996, and new equipment was installed. Additional dental staff were hired to address the serious need for dental services and the range of services expanded. Emergent, routine and reconstructive dental services are provided. A hygienist provides dental hygiene care, oral health education and prevention efforts. A contractual dodontist provides on-site services to children twice monthly, and the Tribe has an on-going contract with an oral surgeon for referral purposes. The CHS program has been able to pay for orthodontic care for five tribal children per year for the past two years.The Community Health Department provides health and social services to the Tribal community. They are responsible for a maternal child health program that includes a First Steps Program for high risk pregnant women, WIC, childbirth education, testing of children with possible FAS/FAE,coordination of an infant and toddler car seat and seat belt safety program. They also collaborate with the Health Clinic and the Tribal Early Childhood Education Department on immunizations and health outreach. A home health nurse visits frail and ill elders in their home as well as coordinates our breast and cervical health program and diabetes program. The Department established and implements an annual Health Fair and FAS Conference. The Tribe's Emergency Services Program coordinates response with a nearby fire district and responds to Reservation emergency medical and trauma situations. An ambulance is used to provide basic life support transports. The HHS Department contracts with nine individuals who work on an on-call basis. Two of them are Emergency Medical Technicians. The Tribe began a Family Assistance Program in October, 1998, taking over TANF from the State. The Tribe has compacted TANF, Work First, Welfare to Work and other federal employment programs through a BIA 477 plan. Many of the Tribe's social service programs (LIHEAP, foodvouchers, etc.), which assist individuals and families, are managed through the Family Assistance Program. The Tribe has also begun to implement it's own federally funded child support program.
About the Tribe
History
The Port Gamble S'Klallam Tribe is a federally recognized Tribal Government organized under section 16, Indian Reorganization Act of 1934 (25 U.S.C. 476, 48 Stat. 984). The S'Klallam Tribe is a signatory to the Point No Point Treaty of 1855 with the United State Government and retains all rights not ceded in that treaty ("Reserved Rights Doctrine" U.S. v. Winans, 198 U.S. 371 (1905)). The Tribe is governed by a Constitution and Bylaws and a comprehensive series of code laws covering a full range of procedural and substantive areas including: criminal and traffic violations, family protection (dependent children, guardianship, adoption and domestic violence), housing, fishing, hunting, land use, civil matters, etc.
The Port Gamble S'Klallam Reservation consists of 1,341 acres of Federal Trust land. There is no private land ownership on the reservation. As federal trust land, the reservation is subject to applicable federal laws, regulations and tribal law. The State of Washington asserts jurisdiction on the Port Gamble S'Klallam Reservation only with regard to: compulsory school attendance, public assistance, domestic relations, mental illness, juvenile delinquency, adoptions, dependent children, and operation of motor vehicles on public roads (RCW 37.12). The Port Gamble S'Klallam Tribe exercises concurrent jurisdiction and primary control over each of these areas.
Today the Port Gamble S'Klallam Tribe operates as a Self-Governance Tribe, striving to reclaim control over their sovereign rights and to lead their people into the 21st century.
Geography
Most of the land on the Port Gamble S'Klallam Reservation is in forestry with residential, business and office areas. The Reservation receives approximately 20 inches of rain per year due to its location in the Olympic Mountain rain shadow. The lands rise from the beach to a gently rolling terrain. The Reservation is located on the tip of the Kitsap Peninsula, near the towns of Kingston and Poulsbo. It is connected to the mainland through the Tacoma Narrows Bridge, and it is accessible to the Edmonds and Seattle areas by ferry and the Olympic Peninsula by the Hood Canal Bridge.
Other Information
Members
There are 991 enrolled Tribal members and the current Reservation population is approximately 710. The majority of off-reservation members reside in surrounding Kitsap County and the Puget Sound areas.
Other Offices and Programs
The Tribal Center houses a variety of administrative offices. The Little Boston Library, Housing Authority and S'Klallam Arts Building are located near the Tribal Center. A Senior Center is located a mile to the northwest; Law Enforcement Offices and "Gliding Eagle Grocery" are located at the south entrance to the reservation. Little Boston Bingo is located next to the grocery store.
Total Tribal Employees
The Tribe currently employees 194 staff.
Housing
Housing on the Reservation is provided by the Port Gamble S'Klallam Housing Authority, by the Ravenwood Mobile Home Park, or by individuals themselves. Reservation housing is all located within two miles from the Tribe's Health Center.
The Housing Authority owns and manages 41 single-family rental units ranging in size from two to four bedrooms. Ten of these units are for Tribal elders; four are handicap accessible. The Tribe also has 29 homes for families through mutual help programs and six single person homes. The home managed by the Housing Authority are 100% occupied by Tribal members or families of Tribal members. The Housing Authority also manages home-buyer housing and is currently building additional homes for Tribal members to purchase. Need for additional housing is great, with 30-40 families on a waiting list.
The Ravenwood Mobile Home Park is owned and managed by the Tribe as an enterprise. Fifty-five mobile homes are located in this park at the edge of the Reservation. Residency is not restricted to Tribal members. Other homes on the Reservation were either built by their owners or built with HUD grants and conveyed to Tribal members. Of these, 20 are in standard condition, 49 in substandard condition, and 23 need substantial rehabilitation or replacement.