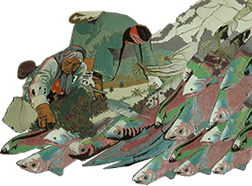 NW Band of Shoshone
Northwest Band of Shoshone
Not-tsoo Gah-nee Health Center
427 NW Main St.,
Pocatello ID 83204
Phone: 208-478-5712 Fax: 208-478-5713
About the Clinic
Facilities/Services Planning

MISSION
To promote and facilitate engineering planning and construction support for the IHS national facilities program by developing and enhancing relationships among Tribes, area offices, and Service Unit engineers and related professionals dealing in building health care systems.
Attainment of the IHS and DHHS missions
The DFPC mission is achieved by:
* Maintaining a priority list based on relative need.
* Supporting tribes when they choose to assume facilities-related responsibilities.
* Planning health care and associated facilities to minimize facility life-cycle costs.
* Planning, promoting, & constructing improvements to exist. Facilities where they are not optimally functional.
* Planning & constructing new facilities when existing facilities do not exist or cannot be effectively improved.
* Developing state-of-the-art facilities with efficient and effective facilities planning.
* Targeting the unmet need with limited resources for maximum effectiveness.
DFPC Vision
To be a Global Health Care Facilities Engineering Division leading cutting edge professionalism in support of Public Health advances and development of solutions to the Indian Health Service challenges.
Location
The Northwest Band of Shoshoni do not operate a health care facility. Tribal members residing on the Fort Hall Indian Reservation are provided health services through the IHS facility in Fort Hall, Idaho or by private doctors. Contract Health Services are provided to tribal members residing in Box Elder County, Utah only. The tribe provides services out of the Blackfoot, Idaho office for both Idaho and Utah tribal members. The tribe employs a full-time CHR out of the Blackfoot, Idaho office, and a Tribal Health Manager. Tribal health programs include a CHR and Indian Child Welfare and A&D
Programs, in Idaho. The total patient population is 411.
About the Tribe
History
The Northwestern Band of Shoshone were additional signers to the Treaty of Box Elder of 1863. The Northwest Shoshoni Tribal Council members serve four-year terms and also select a Chair, Vice-Chair, Secretary and Treasurer from their membership.
Geography
Blackfoot, Idaho, Bingham County - Southeastern Idaho. Brigham City, Utah, Box Elder County - Northern Utah.
Other Information
Members
411 enrolled members.
Other Offices and Programs
Idaho: Administration Office, cultural resources and child care.
Employees
10
Housing
No tribal housing is available.
.(JavaScript must be enabled to view this email address)
Previous Page