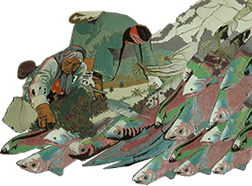 Nooksack Tribe
Nooksack Tribe
Nooksack Community Health Center
P.O. Box 157
Demming WA 98244
Phone: 360-592-5176 Fax: 360-592-2125
Website: http://www.nooksack-tribe.org/index.htm
About the Clinic
MISSION
To promote and facilitate engineering planning and construction support for the IHS national facilities program by developing and enhancing relationships among Tribes, area offices, and Service Unit engineers and related professionals dealing in building health care systems.
Attainment of the IHS and DHHS missions
The DFPC mission is achieved by:
* Maintaining a priority list based on relative need.
* Supporting tribes when they choose to assume facilities-related responsibilities.
* Planning health care and associated facilities to minimize facility life-cycle costs.
* Planning, promoting, & constructing improvements to exist. Facilities where they are not optimally functional.
* Planning & constructing new facilities when existing facilities do not exist or cannot be effectively improved.
* Developing state-of-the-art facilities with efficient and effective facilities planning.
* Targeting the unmet need with limited resources for maximum effectiveness.
DFPC Vision
To be a Global Health Care Facilities Engineering Division leading cutting edge professionalism in support of Public Health advances and development of solutions to the Indian Health Service challenges.
Location
Primary health care services are provided in the new 5,000 SF tribally owned clinic. The program is operated under a P.L. 93-638, Title I contract with the Indian Health Service. The Nooksack Tribe contracts under the 413 amendments of P.L. 93-638 for its area and headquarters shares. Programs include primary care, alcohol counseling, mental health services, public health nursing, nutrition, CHR and dental care. The clinic staff includes one full-time nurse practitioner, one licensed practical nurse, three community health representatives, one full-time alcohol counselor and one part time mental health counselor/social worker. Dental services are provided by a joint venture with SeaMar (a private provider). Nooksack provides a two dental chair, 750 SF facility and SeaMar provides a dentist. WIC services are also provided by the Tribe. Patients who have no other medical coverage continue to travel to the Lummi Tribal Health Center for direct care services that are not provided at the Nooksack Clinic. The Clinic does not bill Medicaid or Medicare as of yet. The Nooksack Tribe is part of the Northwest Washington Service Unit Health Board (NWSUHB) that also includes Lummi, Upper Skagit and Swinomish. The NWSUHB is a non-profit organization established in the early 1980's. The Health Board contracts for sanitation services under a P.L. 93-638, Title I consortium
agreement. One full-time position is funded and the sanitarian provides services one day a week at Nooksack. Services include supervision of contaminated waste handling, food handling permits, health inspections of tribal facilities, water quality and sewage management, vector control and solid waste disposal, among other duties as assigned by the Tribal Health Department. The Tribe's Contract Health Service Delivery Area (CHSDA) is Whatcom County. The enrolled population is 1,341 and the Indian population on or near the reservation is 740. The active user population is 879. The leading causes of death are heart disease, malignant neoplasm, cerebrovascular disease, motor vehicle accident, and digestive diseases.
About the Tribe
History
Historically, the Nooksack people relied on fishing, hunting, clam digging, root gathering and trading with neighboring village peoples for their subsistence. Wealth and prestige within the Coast Salish system were closely allied with the expansion of a family's network of kinship, trading and ceremonial ties. The Nooksack language was predominant in much of the upper Fraser River Valley in British Columbia. In the spring and summer the village groups would split up to fish, hunt, dig clams, gather roots and herbs and to trade with neighboring village peoples. In 1873 an effort was made to remove the Nooksacks to the Lummi Reservation. However, the Nooksacks returned to their upriver sites as they were not closely related by linguistic or kinship ties to the Lummi. In the mid-1930s the Nooksack tribe voted to accept the Wheeler-Howard Act and began working on a tribal constitution. Since they lacked a tribal land base they were not given Federal recognition by the Bureau of Indian Affairs. In 1971 the Nooksack Tribe received full federal recognition and reservation status was established on one acre of land in Deming, WA. Since that time, the Tribe's land holdings have increased to 2,500 acres including 65 acres of tribally owned trust land.
Geography
City: Deming (unincorporated) includes a 1-acre reservation. County: Whatcom, population 117,200, Native American 4,034, 50% of nonwhite or 3% of total population. 2,126 square miles. County extends inland from Strait of Georgia along Canadian Border to Cascades. County's assessed value averages $3,132 an acre. Rainfall (Bellingham) 35.1 inches. Average temperatures 41-58. Principal industries: Food processing, wood products, petroleum refining, manufacturing, agriculture.
Other Information
Members
1,341 enrolled members.
Other Offices and Programs
Administration and Programs, Grocery, liquor store and gas station, Tribal Smokeshop, all at 5048 Mt. Baker Hwy, Deming, WA 98244. No economic development plan at this time.
Total Tribal Employees
Approximately 40 FTE's and 6-8 part-time.
Housing
No information on housing availability