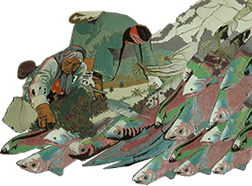 Nez Perce Tribe
Nez Perce Tribe
Nimiipuu Health Center
P.O. Box 367
Lapwai, Idaho 83540
PH (208) 843-2271
Fax (208) 843-7244
Toll Free 1-888-891-2920
P.O. Box 1108
Kamiah, ID 83536
PH (208) 935-0733
Fax (208) 935-1005
Toll Free 1-888-891-2924
Website: http://www.nezperce.org/~nimiipuu/index.htm
About the Clinic
MISSION
To promote and facilitate engineering planning and construction support for the IHS national facilities program by developing and enhancing relationships among Tribes, area offices, and Service Unit engineers and related professionals dealing in building health care systems.
Attainment of the IHS and DHHS missions
The DFPC mission is achieved by:
* Maintaining a priority list based on relative need.
* Supporting tribes when they choose to assume facilities-related responsibilities.
* Planning health care and associated facilities to minimize facility life-cycle costs.
* Planning, promoting, & constructing improvements to exist. Facilities where they are not optimally functional.
* Planning & constructing new facilities when existing facilities do not exist or cannot be effectively improved.
* Developing state-of-the-art facilities with efficient and effective facilities planning.
* Targeting the unmet need with limited resources for maximum effectiveness.
DFPC Vision
To be a Global Health Care Facilities Engineering Division leading cutting edge professionalism in support of Public Health advances and development of solutions to the Indian Health Service challenges.
Location
The Northern Idaho Indian Health Center is a 527 square meter outpatient clinic in Lapwai, Idaho. The clinic is 32 years old and was operated by the DHHS until recently, when the Tribe took over its management under a 638 contract. The tribe now hires health professionals directly, formerly through the Indian Health Service. The Health Center employs 3 physicians, 1 nurse practitioner, 2 public health nurses, 3 registered nurses, 2 mental health social workers, a health educator, 2 dentists, and 2 dental assistants. Tribal health programs include community, Maternal and child health and WIC & nutrition programs, drug and alcohol, child protective services, Community Health Representatives, Commodity foods, and elderly care. Indian Health Services include contract care, dental, health education, laboratory, pharmacy, medical, sanitation, mental health, and housekeeping. The total patient population is 4500.
About the Tribe
History
The Nez Perce people belong to the Sahaptin linguistic group of Northwest Plateau Region. At one time, they occupied an area that covered North Central Idaho, Northeastern Oregon, and Southeastern
Washington. The 1855 Treaty reserved most of their ancestral homelands. However, the discovery of gold in the 1860's led to the Treaty Council of 1863, and the adjustment of the boundaries of the Reservation. The Reservation was reduced by seven million acres, leaving the Nez Perce with 757,000 acres. Some of the Nez Perce (the "Non-Treaty Nez Perce") refused to sign this treaty. The government attempted to force their compliance in 1877. A war resulted ending in a surrender at Bear Paw, Montana, following a 1,700 mile, four-month fighting retreat by these Nez Perce toward Canada. The Dawes General Allotment Act of 1877 followed, whereby the remaining land was distributed within the tribe. Then in 1893, the Nez Perce were pressured into signing an agreement in which all unallotted land was declared "surplus" and sold to the Government for homesteading. The result of the Dawes Act was a Nez Perce Reservation reduced to about 86,500 acres, less than 12% of the 1863 Treaty lands. In 1948, the Nez Perce Tribe became a self-governing body under an approved constitution and by-laws. The Nez Perce Tribal Executive Committee is composed of nine members distributed geographically throughout the reservation.
Geography
The Reservation is 88,314 acres along US 12 east of Lewiston. Annual rainfall 13.2 inches, average temperatures 20 - 76, tribal population, 3,250. Tribal headquarters are in the city of Lapwai, population 1,093, elevation 891 ft. (Not far from Lewiston). Home of the Northern Idaho Indian Agency and site of old Fort Lapwai. Nez Perce National Historical Park is two miles north. Tribal members demonstrate crafts there in the summer. The Reservation includes Nez Perce country, population 33,400, per capita income $13,022 and Lewis County, population 3,700, per capita income $14,524. Principal industries include forest products, agriculture, sand and gravel.
Other Information
Nimiipuu Health provides a full range of outpatient medical services to our patients. These include preventive services, screening and assessment, diagnostic procedures, treatment, and some rehabilitative services. These services are provided through the on-site services of our medical/nursing staff with the support of our:
Laboratory
X-ray
Pharmacy
Physical therapy
Ophthalmology
Services from those programs are on the basis of a referral from one of the Nimiipuu Health providers.
Members
Approximately 3,010.
Other Offices and Programs
The Tribe has an economic development plan in place and several enterprises, including: Forest Products Enterprise (log year, sorting year, harvesting component); Tribal Store (Kamiah); Limestone Enterprise (construction, flaggers, truck drivers); Gaming Center; and Smoke Shops.
Employees
Approximately 700.
Housing
Housing is available in Lewiston about 13 miles from the clinic site.
.(JavaScript must be enabled to view this email address)
Previous Page