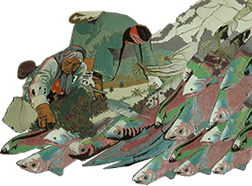 Makah Tribe
Makah Tribe
Sophie Trettevick PHS Indian Health Center
PO Box 115,
250 FORT STREET

NEAH BAY, WA 98357
Phone: 360-645-2233
Fax: 360-645-2305
Webpage: http://www.makah.com
About the Clinic
Location
The Makah Indian Reservation is located on the most northwesterly tip of the Washington State. The Reservation is extremely isolated from other communities within Clallam County, the Olympic Peninsula and Washington State in general. Clallam County's major commercial center and county seat, Port Angeles, is 75 miles from Neah Bay. Seattle is 150 miles away, and Forks, the closest town is 60 miles away.
Services/Programs/Hospitals
Comprehensive primary and dental health services are provided by an IHS run, JCAHO accredited facility located in Neah Bay. The facility was built in 1971, remodeled in 1986 and has 7,145 SF. The Health Center employs three physicians, one dentist and two other practitioners who are either NP's, RN's, or PHN's. The Center bills Medicaid and other third party payers. The Clinic had 9,194 primary care patient visits and 3,867 other patient visits for a total of 13,061 patient visits in FY 1996. The Tribe operates several programs under a Title III Self-Governance Compact. The tribe operates an alcohol and substance abuse program in a tribally-owned structure with 1,344 SF, and a mental health program in a 500 SF trailer. In addition, the Tribe owns a field station for community health with 750 SF. The Tribe's Contract Health Service Delivery Area (CHSDA) is Clallam County. Makah Tribal Health programs include: CHR, CHN, 1st Steps, WIC, Chemical Dependency, Childbirth, Breast Cervical Cancer, Sanitation, EMS, and Mental health. Indian Health Services include: Clinical and Dental services. Other Social Service programs include LIHEAP, Seniors Program, Child Services, Food
Bank, Commodities, Education, Juvenile Services, Foster Care, ICW, Domestic Violence, and Juvenile Diversion. The leading causes of death are heart disease, cerebrovascular disease, cirrhosis of the liver, malignant neoplasm, and motor vehicle and other accidents.
Patients
The enrolled tribal population is 2,356 and the Indian population on or near the reservation is 1,752. There are 4,174 registered users and 3,048 active users in the Neah Bay Service Unit.

About the Tribe
History
The Makah Indian Nation consists of roughly 48 square miles of land, totaling 31,355 acres. The islands of Tatoosh and Waadah comprise 80 acres, and Ozette Reservation represents an additional 740 acres. Olympic National Park separates the Ozette Reservation from the rest of the Makah Reservation, though it is a part of the Makah Nation. Ninety percent of the reservation's acreage is typified by rugged mountainous terrain between 500 and 1,000 feet in elevation and reaching nearly 2,000 feet at Sooes Peak; 25,335 acres are managed forestlands, and 1,213 acres are set aside for "wilderness area." The Makah Usual and Accustomed Area comprises an additional 300,000 acres, extending east to the Hoko River and south to South Creek at the south end of Lake Ozette. Rivers issuing from the mountains include the Sekiu, Sail, Waatch, Hoko, and Sooes. There is a large harbor protected by a breakwater at Neah Bay on the Strait of Juan de Fuca.
Other Information
Members
The enrollment for the Makah Tribe is approximately 2,300.
Other Offices and Programs
No other information about offices and programs are available at this time.
Total Tribal Employees
160 FTE, with a few contract people, and a few part-time.
Housing
Local housing is available for tribal members. Both the clinic and the tribe provide rental units for non-members. The Reservation is extremely isolated from other communities within Clallam County, the Olympic Peninsula and Washington State in general. Clallam County's major commercial center and county seat, Port Angeles, is 75 miles from Neah Bay. Seattle is 225 miles away, and Forks, the closest city center is 60 miles away.