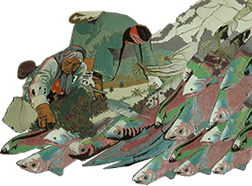 Klamath Tribes
The Klamath Tribes—Tribal Administration
501 Chiloquin Blvd. / P.O. Box 436
Chiloquin, OR 97624
Phone: 800-524-9787
Fax: 1541-783-2219
Webpage: http://www.klamathtribes.org
Klamath Tribal Health & Family Services
Administrative Programs/Contract Health Services/ Health Education
A & D Counseling/Behavioral Health/Healthcare Transportation
3949 S. 6th Street
Klamath Falls, OR 97603
Phone: 800-552-6290
Fax: 541-882-1487
The Klamath Tribes Health & Wellness Center
Medical/Dental/Pharmacy/Patient Registration
330 Chiloquin Blvd. / P.O. Box 490
Chiloquin, OR 97624
Phone: 800-246-7894
About the Clinic
MISSION
To promote and facilitate engineering planning and construction support for the IHS national facilities program by developing and enhancing relationships among Tribes, area offices, and Service Unit engineers and related professionals dealing in building health care systems.
Attainment of the IHS and DHHS missions
The DFPC mission is achieved by:
* Maintaining a priority list based on relative need.
* Supporting tribes when they choose to assume facilities-related responsibilities.
* Planning health care and associated facilities to minimize facility life-cycle costs.
* Planning, promoting, & constructing improvements to exist. Facilities where they are not optimally functional.
* Planning & constructing new facilities when existing facilities do not exist or cannot be effectively improved.
* Developing state-of-the-art facilities with efficient and effective facilities planning.
* Targeting the unmet need with limited resources for maximum effectiveness.
DFPC Vision
To be a Global Health Care Facilities Engineering Division leading cutting edge professionalism in support of Public Health advances and development of solutions to the Indian Health Service challenges.
The Klamath Tribes Health & Wellness Center
Location
The Klamath Tribes are located in southern Oregon in the Klamath Basin. The Tribe has approximately 3700 members. Since the Klamath Tribes were one of the tribes terminated from federal recognition in the 1950s and later restored to federal recognition in 1986 they no longer have a reservation. In the restoration agreement The Klamath Tribes service area was designated as all of Klamath County.

Klamath Tribal Health & Family Services operates a rural outpatient clinic that serves the local Native American population. The Klamath Tribes Health & Wellness Center opened in January of 2006; prior to opening the new center healthcare services were provided from two modular buildings in Chiloquin and a satellite pharmacy in Klamath Falls. The Klamath Tribes Health & Wellness Center is located in Chiloquin, Oregon, approximately 30 miles north of Klamath Falls. The center houses an outpatient medical clinic, a six chair dental clinic and a full pharmacy. Alcohol & Drug Abuse and Behavioral Health Services are provided in both Chiloquin and Klamath Falls.
The Medical Clinic currently is staffed with one physician who serves as the Clinical Director and also sees patients, two full time Family Nurse Practitioners, a part-time Family Nurse Practitioner, three Registered Nurses (one who serves as a Community Health Nurse), a Radiology Technician, two Certified Medical Assistants, a Community Health Representative and several office support staff. Additional staff may be added as the center grows.
The Dental Clinic is staffed with two full time dentists, one who serves as the Dental Director, Temporary Dentists (as needed), a Dental Hygienist, an Expanded Function Dental Assistant, a Perio-Maintenance Dental Assistant, three Dental Assistants and a Dental Office Clerk.
The Pharmacy staff includes three full-time Pharmacists, one who serves as the Pharmacy Director, an on-call part-time Pharmacist, four Certified Pharmacy Technicians and one Pharmacy Clerk. Our Pharmacy does home delivery for elders using our Courier position.
Klamath Tribal Health & Family Services