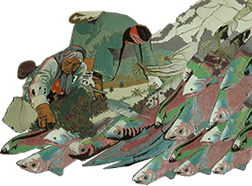 Kalispel Tribe
Kalispel Tribe
Kalispel Tribal Community Center
P.O. Box 39
Usk WA 99180
Phone: 509-445-1147
Fax: 509-445-1705
Webpage: http://www.kalispeltribe.com
About the Clinic
MISSION
To promote and facilitate engineering planning and construction support for the IHS national facilities program by developing and enhancing relationships among Tribes, area offices, and Service Unit engineers and related professionals dealing in building health care systems.
Attainment of the IHS and DHHS missions
The DFPC mission is achieved by:
* Maintaining a priority list based on relative need.
* Supporting tribes when they choose to assume facilities-related responsibilities.
* Planning health care and associated facilities to minimize facility life-cycle costs.
* Planning, promoting, & constructing improvements to exist. Facilities where they are not optimally functional.
* Planning & constructing new facilities when existing facilities do not exist or cannot be effectively improved.
* Developing state-of-the-art facilities with efficient and effective facilities planning.
* Targeting the unmet need with limited resources for maximum effectiveness.
DFPC Vision
To be a Global Health Care Facilities Engineering Division leading cutting edge professionalism in support of Public Health advances and development of solutions to the Indian Health Service challenges.
Location
In 1995 the Kalispel Tribe remodeled a facility which houses the Indian Child Welfare social worker, the mental health worker, and a community outreach worker. The elderly nutrition program and substance abuse programs are located in the Tribal Community Hall. Two tribal Community Health Representatives (CHR) are located in the tribal administrative office. The CHR, mental health, and substance abuse programs are operated by the Tribe under a P.L. 93-638, Title I contract with IHS. A Pend Oreille County Health Nurse is contracted once a month to provide WIC services. The Tribe
employs 2 CHR's. The Tribe has no on-site primary care available at this time. Kalispel tribal members must either journey 75 miles one way to receive care at the IHS clinic at Wellpinit or depend on private care obtained through the Contract Health Services (CHS) Program operated by IHS through the Wellpinit Service Unit. The Kalispel's Contract Health Service Delivery Area (CHSDA) is Pend Oreille County. The enrolled tribal membership is 250 and the Indian population living on or near the reservation is 186. The active health clinic user population is 171. The leading causes of death are heart disease, motor vehicle accident, malignant neoplasm, cerebrovascular disease and cirrhosis of the liver.
About the Tribe
History
The Kalispel Reservation is approximately 4,600 acres on a narrow strip located along the east bank of the Pend O'reille River in extreme northeast Washington. The Kalispel Reservation is a very small portion of the original land of 4 million acres. Under the Indian Claims Commission the Kalispel filed for the land and in 1958 they won. In 1963 they received damages from the Commission. They invested some of the funds and allocated part to immediate and future needs. In 1975 they started a buffalo herd; they sell meat, hides, skulls, horns and animals. Their business (Kalispel Case Line) constructs aluminum gun, bow, camera and fishing rod cases. They were successful in acquiring land for a wildlife reserve. Future plans and "wish list" include a youth center, and land purchase along the main highway to open a convenience store business.
Geography
The Reservation is a narrow strip of about 10 miles along the east bank of the Pend Oreille River in extreme northeast Washington. City: Usk (unincorporated). County: Pend Oreille, population 9,000. Native American 161, or 75% of nonwhite and 2% of total. 1,402 square miles (along Idaho border extending to British Columbia). County's assessed value averages $284 an acre. Rainfall (Newport) 27.1 inches, temperatures 31-58. Elevation 2,135. Principal industries: wood products, agriculture, mining.
Other Information
Members
250 enrolled members as of 11/90.
Other Offices and Programs
Community Hall, LeClerc Creek Road, Usk, WA. A Library located by the Community Hall. A court and law office.
Employees
17 FTE, 1 part-time, 3 Bureau of Indian Affairs Forestry employees.

Housing
No tribal housing available.