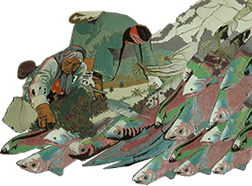 Jamestown S'Klallam Tribe
Jamestown S'Klallam Tribe
Jamestown S'Klallam Tribal Community Center
1033 Old Blyn Hwy
Sequim, WA 98382
Phone: 360-683-1109
Fax: 360-681-3402
Webpage: http://www.jamestowntribe.org
About the Clinic
MISSION
To promote and facilitate engineering planning and construction support for the IHS national facilities program by developing and enhancing relationships among Tribes, area offices, and Service Unit engineers and related professionals dealing in building health care systems.
Attainment of the IHS and DHHS missions
The DFPC mission is achieved by:
* Maintaining a priority list based on relative need.
* Supporting tribes when they choose to assume facilities-related responsibilities.
* Planning health care and associated facilities to minimize facility life-cycle costs.
* Planning, promoting, & constructing improvements to exist. Facilities where they are not optimally functional.
* Planning & constructing new facilities when existing facilities do not exist or cannot be effectively improved.
* Developing state-of-the-art facilities with efficient and effective facilities planning.
* Targeting the unmet need with limited resources for maximum effectiveness.
Tribal Mission
"The Jamestown S'Klallam Tribe seeks to be self sufficient and to provide quality governmental programs and services to address the Unique social, cultural, natural resource and economic needs of our people. these programs and services must be managed while preserving, restoring and sustaining our Indian heritage and insuring community continuity."
Location
The Jamestown S'Klallam Tribe provides community and public health services in a 3,200 square foot Tribally-owned building. This building also houses the Tribe's medical and dental programs. Outpatient substance abuse services are provided in a separate 1800 square foot building. The Tribe's medical program is a managed care system based on the principle that purchasing insurance is preferable to the current Indian Health Service system because it ensures people get the medical services they need when they need them, and that managed care will provide higher quality care at less expense. This unique program was authorized as a demonstration project and is funded under a P.L. 93-638, Title III Self-Governance Compact. Health insurance coverage is provided to all Tribal
members either through Medicaid, Medicare, private insurance (normally employer provided) or the Washington Basic Health Plan. The Tribe assists members in applying for these programs and then pays required premiums, co-pays and deductibles. Vision, dental, hearing and mental health services are received from local providers through a standard contract health services program. All of these services must be pre-authorized and a priority system is used. The Tribe's Contract Health Service Delivery Area (CHSDA) is Clallam and East Jefferson County.
About the Tribe
History
The Jamestown Klallam Tribe has evolved directly and without a break from several constituent communities of the S'Klallam Tribe. The S'Klallam Tribe (meaning "strong people"), as a Salish cultural and linguistic group, were related to the Sook and other tribes of British Columbia, but also to most of the tribes of the Puget Sound area. The Klallam Tribe was a clearly defined social and cultural unit, whose component villages were closely linked by intermarriage and other cooperative social ties. This tribe, first contacted in 1790, was signatory to the Point No Point Treaty with the US in 1855. Jamestown received services and was dealt with by the Federal government as a distinct community by other Klallam groups and other Washington Indians. In the 1970's, the mood of the Jamestown Tribal membership changed as it saw that fishing and hunting rights were denied them due to the lack of federal recognition. Because of overall economic conditions, the membership also became aware of the difficulty in providing for health and educational care. The Tribe soon realized that only through Federal recognition would they be able to provide for these basic needs. This effort began around 1974 and was established after a long struggle on February 10, 1981. It also remained distinct from other Klallams as well as from non-Indians despite its character as a "progressive" Indian community whose members sought education and aggressively integrated into the non-Indian community and its economy. A major factor in the stability and continuity of the Tribe was the land base purchased when it was formed in 1874. This land provided the economic foundation for a prosperous Indian community and a geographical center for the group is still owned by the community members today. In 1981, the Tribe began operations with a full-time staff of two individuals and only two grant-funded programs. Since 1988, the Tribe has been involved in a national Self-Governance Demonstration Project which allows the Tribe more autonomy and control over Bureau of Indian Affairs funding. The Project has resulted in the Tribe being able to provide more Tribally-specific programs, services, and activities to better meet the needs of the membership and helps to maintain the government-to-government relation between the Tribe and the United States.
Geography
The Jamestown S'Klallam Tribal community is located on the northern Olympic Peninsula of Washington State, approximately 70 miles northwest of the city of Seattle.
The Peninsula is a distinct and somewhat isolated geographic region, as it is separated from the Seattle urban area by two bodies of water, one of which must be crossed by ferry. Two counties comprise the bulk of the Olympic Peninsula land area, Clallam County and Jefferson County. The Peninsula is bounded by the Pacific Ocean to the west, the Strait of Juan de Fuca to the north, and on the east by Hood Canal. A large part of the two counties is densely timbered wilderness or undeveloped area, and is characterized by rugged mountains, steep slopes and rain forests.
Annual precipitation varies widely on the Peninsula, with over 100 inches in the west end, and only 17 inches in the Sequim area.
City: Sequim, population 3,277. Elevation 290. County: Clallam, population 53,400; Native American, 2,695, 58% of nonwhite population, 4% of total. 1,752 square miles (Juan de Fuca and Pacific Coast). Clallam County's assessed value averages $1,554 per acre. Rainfall (data for Port Angeles) 24.6 (actual rain probably a few inches less), temperatures 45-72. Principal industries: wood products, agriculture, tourism.
Tribal Property:
Reservation 13.5 Acres
Trust 103.0 Acres
Fee 933.0 Acres
Total: 1049.5 Acres
Other Information
Members
There are 486 enrolled Tribal members, 641 Indians living on or near the reservation and 420 active users.
Other Offices and Programs
Northwest Native Expressions have native art galleries in Blyn, Port Townsend and 7 Cedars Casino. 7 Cedars Casino offers a variety of casino games, a 600-seat bingo hall, an art gallery with fine artwork, gift items and delicacies and a restaurant that offers a buffet of international cuisine and regional favorites. Jamestown Seafood is a wholesale outlet engaged in global marketing of geoducks, Dungeness crab, and oysters. Jamestown S'Klallam Tribal Fireworks is a seasonal retail store carrying the largest assortment of fireworks on the Olympic Peninsula. JKT Development, Inc. is a Tribally-owned enterprise of the Jamestown S'Klallam Tribe. JKT Development is overseen by a board of directors and administered by a Tribal Government program, the Jamestown Economic Development Authority. The divisions within the JKT business structure provide a wide and versatile range of services through residential, commercial and all levels of government markets. We provide services locally on the Olympic Peninsula, as well as nationally, with projects throughout Washington and Colorado.
Business Divisions:
* JKT Construction Division - Commercial/Industrial Construction
* Jamestown Excavating - Excavating Services
* Jamestown HomeBuilding - Residential Construction
* Jamestown Information Technologies - IT Support Services
The tribal staff now consists of one hundred forty-seven individuals.
Housing
No tribal housing. Private housing available in nearby community.