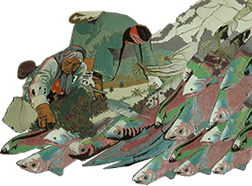 Project Red Talon

Project Red Talon
Project Red Talon (PRT) has provided training and technical assistance to tribes and tribal organizations throughout the U.S. on implementing and evaluating culturally appropriate sexual health and STD/HIV prevention programs since 1988. Project Red Talon works to delay sexual initiation, reduce sexual risk-taking, reduce STD/HIV infections and disparities, and achieve a more coordinated national and NW tribal response to STDs/HIV. A few of Project Red Talon's current activities include:
Native VOICES Adaptation Project: The Native VOICES project is working closely with tribal and Indian Health Service partners to adapt a CDC-recognized intervention, Video Opportunities for Innovative Condom Education and Safer Sex (VOICES), and evaluate its effectiveness as an HIV/STD prevention resource for American Indian and Alaska Native (AI/AN) teens and young adults 15-29 years old. The project is supported by a three-year grant from the Indian Health Service, issued through their Native American Research Centers for Health (NARCH) program. To maximize the cultural appropriateness of the Native VOICES video, the project is conducting focus group talking circles, individual interviews, and community feedback sessions that will capture the varied experiences of AI/AN teens and young adults in Washington, Idaho, and Oregon. We are now recruiting sites to participate in the evaluation of Native VOICES. If you are interested, please download and read the following materials:
Trial Site Recruitment letter
Program Director Recruitment letter
MOA
Site Interest Form

It's Your Game (IYG) Adaptation Project: The IYG Adaptation Project is a multi-site research project that is being carried out in partnership with the Alaska Native Tribal Health Consortium, Intertribal Council of Arizona, Indian Health Service, and the University of Texas Prevention Research Center. The project is adapting an evidence-based multimedia sexual health program for AI/AN youth 12-14 years old, Its Your Game… Keep it Real (IYG). Funding for the three-year project was provided by the Centers for Disease Control and Prevention.
WeAreNative Multimedia Project: Project Red Talon is developing several state-of-the-art multimedia health resources for Native teens and young adults to address health and social issues important to Native youth, and promote holistic health and positive identity. The website will be launched in January 2012; the text messaging service and Facebook© page were launched in August 2011. Both services are funded by the President's National HIV/AIDS Strategy and the Indian Health Service, and specifically target American Indian and Alaska Native teens and young adults.
Healthy & Empowered Youth (H.E.Y.) Project Evaluation: Project Red Talon has partnered with the Oregon Health Sciences University (OHSU) Prevention Research Center and a NW tribe to evaluate the delivery of the Native STAND curriculum and filmmaking training to a cohort of middle and high school students over a three-year period. Native STAND incorporates American Indian tradition and culture to address STD, HIV, and teen pregnancy, as well as drug and alcohol and dating violence. The filmmaking component of the project is giving participants the necessary skills to produce videos on health and wellness topics deemed relevant to Native youth. The primary objectives of the project are to provide and enhance: 1. Academic enrichment; 2. Life skills - e.g. self-awareness, critical thinking, communication and coping skills, and cultivate media literacy; 3. Personal development and wellness - e.g. positive self-concepts and healthy lifestyles, particularly in the areas of reproductive health and the prevention of intimate partner violence and substance abuse; 4. Cultural awareness; and 5. Career development among participating students.