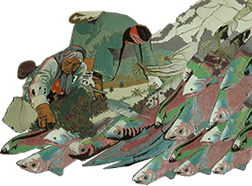 The Basics
About Injury Prevention
Injuries Are Not Accidents,
And Are Therefore
Predictable and Preventable
Overview
What are Injuries? (PDF)
Get the defintion and types of injuries and how to categorize them.


What is Injury Prevention? (PDF)
A quick overview on the guiding principles and key points of injury prevention.
Injuries are a leading cause of death, 2002 (PDF)
See the statistics for all of U.S. and American Indian and Alaska Natives.
A Blueprint for a Comprehensive Injury Prevention Program (PDF)
Shows an outline structure on one way to to build an injury prevention program.
Cost of Injuries
Costs of Injuries (PDF)
Information on the economical burden of injuries reinforced with the financial averages of injuries.
Financial Burden of Injury-Related Hospitalizations to an Alaska Native Health System (PDF)
From 1994-1998, the total expenditures for the 511 injuries resulting in hospitalizations was $4,145,440.
Cost of Injuries in the U.S. - A Report to Congress (PDF)
Published in 1989, it has proved to be a landmark publication showing the need to address injury as a public health problem.
Injuries as a Public Health Problem
Injury Pyramid. pdf (pdf-61 KB).
For each death from injury, many more result in hospitalization, emergency department
Injury Data & Stats
Data is an important part of having a successful injury prevention program. Get information here on how to better understand data and statistics.
Injuries are not accidents (pdf-62 KB) The word accident implies that it cannot be prevented, but crashes are predictable and preventable.
copyright 2002–2016 NPAIHB All rights reserved. Mural by Robilyn Robins