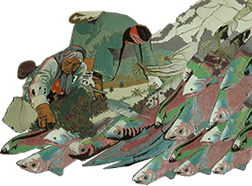 Start Your Injury Prevention Plan
Getting Started—Having a plan is the first step towards preventing injuries

Overview
Injuries are not accidents—they do not happen by chance. Like disease, they follow a pattern. By identifying the risks for injury, it is possible to predict and prevent it. This page is here to provide you with some basic public health principles and tools to assist you in this process. In the first section there are two step-by-step approaches that are used by many public health practitioners to solve injury problems. The second section provides information on basic public health principles that support these approaches.
Predicting an injury is based on knowing the risk factors for an injury (for example, if you do not wear a seat belt, there is high chance of getting injured in a car crash). If the community injury data shows an injury problem, add to that the risk factors that most likely contributed, and you have set the stage to start intervening or correcting the problem (prevention).
Prevention is a process applied to correct the injury problem. The problem and the risk factors that are involved will direct which intervention or strategy you can apply. There are many proven or effective strategies already in use today (seat belts, car seats, smoke detectors), and new strategies that are being tested each day.
Injury Prevention - Planning Approaches
Public Health Approach (PDF)—How can you address the injury problem? Here is a summary of the CDC's 4-step approach.
World Health Organization (WHO)-Developing Polices to Prevent Injuries and Violence: Guidelines for Policy Makers and Planners (PDF) Large File!—Comprehensive policies and well-thought out action plans are essential if injury prevention efforts are to be effective.
CDC Injury Fact Book (PDF) Large File!—This book presents a comprehensive look at the injury problem in America and efforts underway to reduce it. It offers a wealth of injury data and descriptions of CDC research and prevention programs for a full spectrum of injuries.
Summary of Three Phases of Policy Development (PDF)—A chart showing a summary of the WHO's three phases of policy development to prevent injuries. Click on the large file above for the full text.

Public Health Approach - In More Detail
Define the Problem (PDF)—Defining or identifying the problem is Step 1 in the Public Health Approach. Which injuries occur most often and how severe are they? Start your plan here.
Risk Factor Defined (PDF)—This is Step 2 of the Public Health Approach. A risk factor increases one's chances of getting a disease or injury. See a example here.
Public Health Principles (PDF)—Learn here about applying basic public health principles to identify risk factors and to help develop and choose prevention strategies.
Program Planning (PDF)—The more defined a program is the easier it will be to implement. Time invested in planning will save time and resources and reduce frustration.
Effective Strategies(PDF)—Strategies for Motor-Vehicle Occupant Injury. Increasing Use of Child Safety Seats, Increasing Use of Safety Belts, and Reducing Alcohol-Impaired Driving. CDC MMWR May 2001.
Effective Strategies (PDF)—Evidence-Based Effective Strategies for Preventing Injuries. Motor Vehicle plus Teen Drivers, Child Abuse Prevention, Bike Helmets, Residential Fire, and Drowning.
Evaluation (PDF)—A well done evaluation should tell us if our program did what we wanted it to do, and it also helps us measure any changes that resulted from our program.
Tools for Intervention and Prevention
Epi Triangle Practice Problem and Worksheet (PDF)—This model is used as a tool to identify the risk factors and show the relationship between the three factors that influence the occurrence and prevention of disease and injury. These factors are: Host, Agent, and Environment. Prevention efforts are designed to change one or more of these characteristics, altering the relationship between the three, and ultimately changing the frequency (how often) or severity (strength) of the disease or injury.
Intervention brainstorming tools available here.
Visit here for tools used to identify injury risk factors and intervention strategies. Find information on the ThreeE model and Haddon's Matrix. Interventions that address multiple levels are most effective for injury prevention. haddon image
Action Planning Worksheet 1 (PDF)
Action Planning Worksheet 2 (PDF)
After planning, the next step is to develop an action plan for each objective. Action plans define and focus what actions or activities need to occur and they define who will be responsible for what actions.