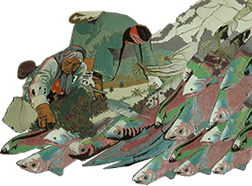 Project Red Talon

Project Red Talon has provided training and technical assistance to tribes and tribal organizations throughout the U.S. on implementing and evaluating culturally appropriate sexual health and STD/HIV prevention programs since 1988. Project Red Talon works to delay sexual initiation, reduce sexual risk-taking, reduce STD/HIV infections and disparities, and achieve a more coordinated national and regional response to STDs and HIV.
A few of Project Red Talon's current activities include:
Sexual Health Quality Improvement: The sexual health quality improvement project focuses on HIV, STD and Hepatitis C, and is starting to work on reproductive health and unplanned pregnancy. The project works closely with partners across the nation to improve clinical sexual health measures. Highly varied and relatively low screening rates for CT, HIV, HCV and other sexual health measures occur for a number of possible reasons, including but not limited to: differences in healthcare organizations, variation in processes, organizational climate and culture, human behavior and biases, and provider and patient knowledge. In order to effectively change and improve screening rates in clinical care settings, it is important to focus on how to improve the systems we have in place in which patients receive primary care. The quality improvement project works with participating sites to increase sexual health screening measures. The aim of this project is to promote sexual health and wellness for AI/AN people by effectively disseminating and implementing effective programs with a focused effort on improvement and implementation from a socio-ecological framework, including systems, communities, organizations, individuals and policies.

We R Native Multimedia Health Resources: We R Native is a multimedia health resource for Native teens and young adults. The service was designed using behavior change theory and extensive formative research with AI/AN throughout Indian Country. We R Native includes content on social, emotional, physical, sexual, and spiritual health, and encourages AI/AN youth to take an active role in their own health and welling. On average, We R Native reaches over 31,000 users per week through its various media channels (Website, Facebook, Twitter, text service and YouTube). The project is funded by the Indian Health Service.
To learn more about We R Native, please:
Native VOICES: The Native VOICES project has worked closely with tribal and Indian Health Service partners to adapt a CDC-recognized intervention (Video Opportunities for Innovative Condom Education and Safer Sex - VOICES), and evaluate its effectiveness as an HIV/STD prevention resource for American Indian and Alaska Native (AI/AN) teens and young adults 15-24 years old. The Native VOICES video was completed in December 2013. A national, randomized controlled trial is now underway to evaluate the intervention. Sites were randomly assigned to one of three intervention groups: 1) control 2) video 3) video plus facilitator-led discussion and activities. Approximately 800 AI/AN teens and young adults from 8 tribal/urban sites are completing pre-, post-, and six month follow-up surveys. Results from the effectiveness study will be available in early 2015. The video and an implementation kit will be disseminated free-of-charge at that time. The project is supported by the Indian Health Service, issued through their Native American Research Centers for Health (NARCH) program.
Native It's Your Game (NIYG): The NIYG Adaptation Project is a multi-site research project that is being carried out in partnership with the Alaska Native Tribal Health Consortium, Intertribal Council of Arizona, Indian Health Service, and the University of Texas Prevention Research Center. In 2012 the project adapted an evidence-based multimedia sexual health program for AI/AN youth 12-14 years old, It's Your Game… Keep it Real (IYG). The adapted curriculum is currently being evaluated across the three tribal regions. Funding for the project is being provided by the Centers for Disease Control and Prevention. A separate evaluation of a parent/child component is funded by the Administration for Children and Families. Report findings and the adapted curriculum will be available in 2015.