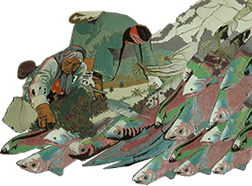 Northwest Native American Research Center for Health (NW NARCH)

About NW NARCH
Carefully designed and implemented health research can provide solutions to help eliminate the vast disparities in health between Northwest American Indians/Alaska Natives (AI/ANs) and non-AI/ANs; however, AI/AN communities are generally distrustful of health research because of past experiences with non-AI/AN researchers.
Our Goal
The overall goal of the NW NARCH is to develop a cadre of highly trained AI/AN biomedical and health researchers who are sensitive to the culture and specific concerns of Northwest Indian communities, and who can bring the benefits of academic research to these communities to reduce health disparities. The NW NARCH will be operated by the EpiCenter at the Northwest Portland Area Indian Health Board (NPAIHB),—an Indian organization uniquely qualified to administer NARCH based on an active membership of all 43 Northwest Indian tribes in Idaho, Oregon and Washington.
Community Based Projects to Accomplish our Goal
The NW NARCH will accomplish its goal through several community-based research projects that address priority health issues.
Primary prevention of dental caries, and type 2 diabetes through an innovative intervention program, a continuation of a study implemented through the NARCH 1 program; and
an internet-based study of self management of Type 2 diabetes, a growing problem in NW Indian communities, We will also develop an extensive infrastructure for training and supporting
AI/AN students and
AI/AN faculty in high quality health and biomedical research.
Administrative Core
The administrative Core for the NW NARCH will support all of these activities with secretarial, budget-related and programmatic support. This project opens to AI/AN researchers the extensive health research training opportunities of the two premier academic health research institutes of the Northwest—Oregon Health Science University (OHSU) and the University of Washington (UW). All of these projects will be accomplished through enhancements of the existing partnership between NPAIHB, OHSU, and UW. Our efforts will help to further the position of the NW NARCH as a regional resource for AI/AN health research, and will contribute to the national effort to reduce health disparities among AI/AN people, compared to other races in the US.
Scholarships
Through the NARCH program funded by the Indian Health service and NIH, the Board is able to provide a limited number of scholarships to support research career development in the biomedical sciences. Historically, the NARCH fellowships have supported AI/AN students pursuing MPH degrees, other masters degrees, PhD's in social and biomedical sciences, MD's, and other doctoral-level degrees. Successful candidates will receive monthly stipends to support their studies, and can use the funds as they see fit for career development. Doctoral candidates will receive stipends of 37K per year, and masters level students will receive 28K per year. The scholarships will be awarded on a first come, first served basis as long as the grant support allows. The successful candidates must demonstrate satisfactory progress toward degree completion during the course of their awards.
Application packets should include the following information:
A CV for the candidate
A letter from the candidate that indicates their career interests and goals
Two letters of recommendation
The most recent set of transcripts
Proof of tribal enrollment
Proof of enrollment in a graduate level health sciences (or related) degree program
Please send all information in one packet to .(JavaScript must be enabled to view this email address), either by pdf or surface mail.
Principal Investigator Thomas Becker, MD, PhD
2121 SW Broadway, Suite 300
Portland, OR 97201
(503) 228-4185
(503) 228-8182 Fax
Please Cc emails to .(JavaScript must be enabled to view this email address).