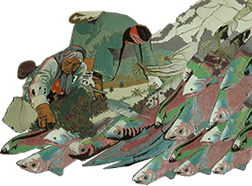 Northwest Tribal Infant Mortality Project
Northwest Tribal Infant Mortality Project
As non-AI/AN infant mortality rates (IMRs) continue to decline, AI/AN IMRs have remained 1.5-2.0 fold higher than white rates. Dr. Jim Gaudino joined NPAIHB in late 2000 as the CDC MCH Medical Epidemiologist to develop the Northwest Tribal Infant Mortality Project (IMP) as a follow-up of a previous, exploratory project.
IMP's first phases have involved accessing, setting up, and creating combined Pacific Northwest vital statistics computerized data bases from three state Centers for Health Statistics (CHS). The first analytic priority has been to re–examine previous findings and to extend analyses beyond the years previously examined. With signed data sharing agreements with each CHS, NPAIHB requested computerized birth certificate (BC), birth-death linked (BD), and fetal death files for almost 20 years from 1981 to 1999 without any personal identifiers. Data files were set up using SAS software while creating standardized variables. BD records were then linked back to complete birth files.
For these infant mortality rate (IMR) calculations, only maternal residents of the three states, based on BC, were included and death cohort methods were used. Infant race was based on the mother's race on BC, regardless of Hispanic origin, using CDC NCHS's definition of race. For Project data files now include 2.6 million records, including 2,100-2,800 AI/AN births annually and over 80 newly created standardized variables. There continues to be many data standardization challenges due to state vital statistics form, code and data file format changes over time. From 1984-1990, AI/AN IMR were 1.8-2.4 fold higher than white rates. AI/AN IMR significantly dropped from 21.6 per 1000 births in 1990 to 6.0 in 1995, nearly crossing the 5.5 1995 white rate. Combined-year AI/AN IMR significantly dropped from 18.9 in 1988-90 to 6.5 in 1994–96.
The underlying cause-of-death specific rate calculations, CDC's National Infant Mortality Surveillance (NIMS) ICD–9 code categories were used. NIMS categories were developed to help identify potential problems in health care and prevention and examine biologic processes that can lead to these deaths. Since new ICD–10 cause-of-death codes were used starting in 1999 and code translations are pending, analyses of causes of death after 1998 is not yet possible.
The combined AI/AN 1998–1999 IMR was significantly higher than the 1996-1997 rate. AI/AN Sudden Infant Death Syndrome (SIDS) rates significantly decreased from 8.1 in 1984-87 to 2.3 in 1994-96, but then leveled off. AI/AN respiratory distress syndrome rates also significantly dropped from 1.8 in 1984-87 to 0.3 in 1991-93, but leveled off. Rates of death due to 'other perinatal conditions' (OPC), and 'birth trauma, hypoxia and asphyxia' (BTHA), apparently, but not statistically increased from 0.8 in 1994