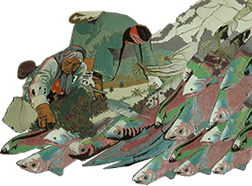 Joe Jay Pinkham Memorial & Military Stone Setting
August 03 2013
September 17, 1927 — August 21, 2012
Memorial & Military Stone Setting
This announcement is to invite all family and friends to the Memorial and Stone Setting for our father, Joe Jay Pinkham.
We hope you can share in this early morning tribute with breakfast and traditional services immediate following.
On behalf of our mother, we invite you to witness the honoring and memorial of our father!
Stone Setting
Date: August 3, 2013
Time: 6:00AM
Location: Satus Point Cemetery
Location/Services: Toppenish Community Center
Ida Jo Pinkham 509-985-1182
Joe Jay 3rd 509-426-0020
.(JavaScript must be enabled to view this email address)
Yakama Nation Community
600 Meyers Road
copyright 2002–2016 NPAIHB All rights reserved. Mural by Robilyn Robins